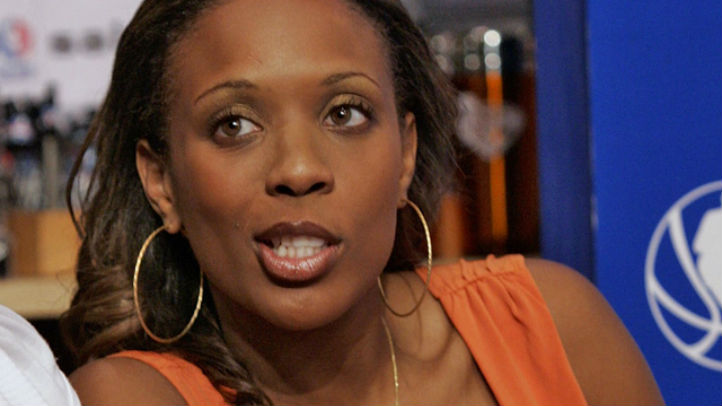 The ex-wife of NBA star Dwyane Wade reportedly took to the streets of Chicago Friday begging for change.
Siohvaughn Funches-Wade sat on the sidewalk outside of the Daley Center with a sign to protest what she called the "injustice" of a failed lawsuit she filed last week, according to the Chicago Tribune.
"NBA Miami Heat star, mother of his children on the streets," the sign read.
Funches-Wade voluntarily withdrew the lawsuit she filed against Wade, but no reason was given for the dismissal.
The suit alleged Wade violated the terms of a 2008 agreement that requires his endorsement deals be fully deposited into a joint account they both control.
The lawsuit claimed a total of $2 million in damages from Wade and named T-Mobile USA, Gatorade and Staples Office Superstore, a financial adviser and an attorney.
James Pritikin, Wade's attorney, said last week the lawsuit was without merit and that he expected it to be thrown out of court. He also said that the lawsuit "mischaracterizes" the terms of the agreement involving the joint account but declined to comment further.
The lawsuit came just weeks after Wade's Miami Heat won the NBA championship series against the San Antonio Spurs -- the kind of event that often results in more endorsement opportunities for professional athletes.
It also followed a messy divorce and custody battle that played out in Chicago courtrooms between Wade, a Chicago-area native, and his ex-wife for about five years. In 2010, Wade was granted a divorce and the next year he was awarded sole custody of the couple's two sons.
Last year, Funches-Wade was arrested on misdemeanor charges of attempted child abduction, unlawful visitation interference and obstruction of a peace officer after an incident related to visitation. The Cook County State's Attorney's Office said that all the charges except obstruction of a peace officer have been dismissed. The office said Funches-Wade is scheduled to appear in court on that charge in September.