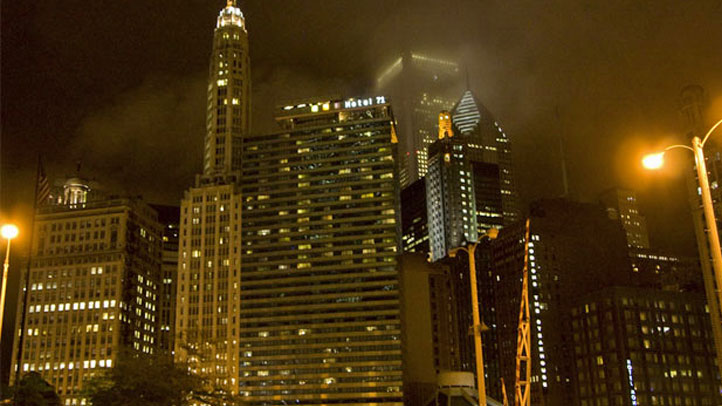 The showers and thunderstorms that moved into the Chicago area Wednesday are expected to continue, prompting a flash flood watch to be issued.

A flash flood watch is in effect through Thursday morning for portions of northern Illinois -- including Cook, DuPage, Kane, Lake and Will counties until Thursday morning.

Previously-issued tornado watches were allowed to expire at 10 p.m. Wednesday, and a tornado warning that had been issued for La Salle County until 7:30 p.m. was cancelled about a half hour early.

A tornado warning issued Wednesday morning in Kankakee County was also allowed to expire, but not after high winds did serious damage.

Firefighters returning from a fire near St. Anne, about five miles southeast of Kankakee near the Indiana state line, saw a tornado that damaged one home, St. Anne Fire Chief John Boomsma said.

"They said it was a tornado on the ground,'' he said. "I'm assuming they got a pretty good look at it, more than they wanted."

Further south in Piatt County, two apparent tornadoes were reported near the communities of Cerro Gordo and Pierson, emergency management coordinator Jim Donaldson said. The only reported damage in the area, about 30 miles southwest of Champaign, was a toppled grain bin.

Another funnel cloud was spotted west of Hoopeston, near the Indiana state line, but no damage was reported, said Ted Fisher, Vermilion County's director of emergency management.

In other areas high winds were blamed for more damage.

Near Springfield, power poles were knocked down by what were apparently high winds along Illinois 104 between the town of Auburn and Interstate 55.

And in the eastern Illinois communities of Rankin, power poles were blown down, some outbuildings damaged and grain bin damaged by high winds.

The likelihood of rain continues through Thursday. A peek at the sun may come early Friday before another bout of precipitation that lasts through the weekend.

Monday, Memorial Day, is setting up to be pleasant and dry.
Get Breaking SMS Alerts: Be the first to know when news breaks, and when weather changes dramatically.
News: Text CHIBREAKING to 622669
Weather: Text CHIWEATHER to 622669
Copyright AP - Associated Press