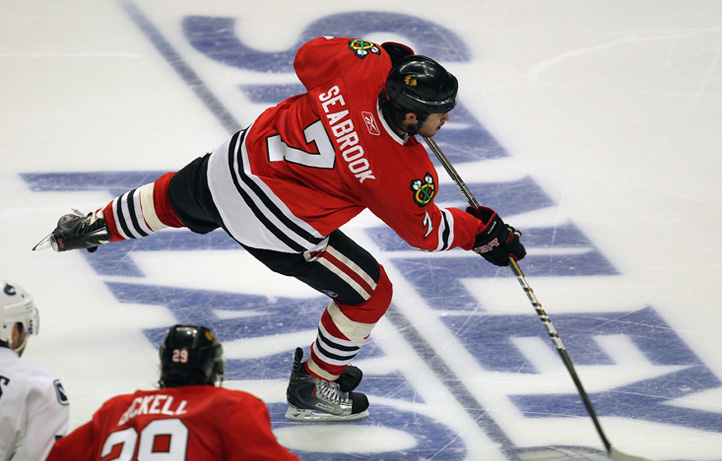 Brent Seabrook didn't get to enjoy his status as the latest "Core" member locked up for very long before Patrick Sharp took that mantle. But Seabrook will enter his first year under a new contract as perhaps the most solid player on the blue line.
That's not to say that Seabrook was solid all of last year, just in comparison to most of the shambles that were around him. But thanks to Duncan Keith's goofiness, Seabrook had to shoulder more of a load than he ever had before. He responded for the most part, blowing by his career-high with 48 points and 39 assists.

Biscuit displayed what had always been an underrated passing game, firmly establishing himself as the second best passer on the backend for the Hawks behind the now-departed Brian Campbell. Countless times he was able to send the Hawks storming the gates with lightning bolts delivered from his own end, much like William Wallace, obviously. He got to man the No. 1 power play unit as well, which he pretty much quarterbacked as Patrick Sharp was on a point with him.
Seabrook was solid in his own end as well, for the most part. There were brief stretches where he caught whatever disease was afflicting Duncan Keith for most of the season, but overall Seabrook was his atom-smashing, pillar of destruction that he's been for most of his career. Far and away the biggest hitter on the Hawks, last year he was the only defenseman who could give opposing forwards pause.
But therein lies a potential problem. Though some have argued that Raffi Torres's hit on Seabrook in Game 3 turned that series around, it was at least Seabrook's third concussion in three seasons. Probably more if we're honest. One has to wonder that with the rugged game Seabrook plays, when he is going to take the hit that shelves him for a very long time. It could be any day.
If he can stay out of the dark room, Seabrook's life will be greatly helped by his usual partner, Keith, returning to a life form we recognize. Then Seabrook can play his normal, support game to No. 2, and not have to cover for him defensively as well as pick up his offensive slack. While he's got a huge shot and sees the ice well, he's better suited to playing behind Keith and cleaning up his own zone through physical play.
If that happens, the Hawks will once again have one of the best defensive pairings in the league.