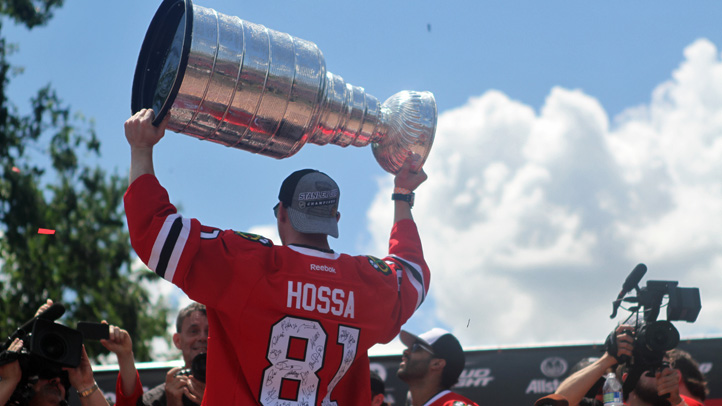 After missing the Chicago Blackhawks' training camp festival scrimmage and the team's first preseason game against the Detroit Red Wings on Tuesday night, all signs were pointing to forward Marian Hossa playing against the Pittsburgh Penguins on Thursday, a game which will be televised on Comcast SportsNet at 7pm.
Blackhawks head coach Joel Quenneville had said that Hossa would play. His name even appeared on the lineup sheets given to the media at the United Center before Thursday's morning skate. Then, the skate began, and Hossa was nowhere to be found.
Then, late Thursday morning, the news came down that Hossa had aggravated an upper body injury, and that he not only would be sitting out the game against the Penguins, but he could miss the rest of the preseason schedule as well. Quenneville did leave the door open to Hossa playing in the team's final fake game against the Washington Capitals on Sept. 28, but as of right now, the speculation has to begin once again about what ailment is hindering Hossa.
Is it the back injury that he sustained during the playoffs, which kept him out of Game 3 of the Stanley Cup Final? Is it the shoulder injury that he has been dealing with off and on throughout his time with the Blackhawks? Is it a flare-up of the concussion he sustained at the hands of Raffi Torres during the 2012 playoffs?
No one knows the answers to any of those questions, but the fact remains that Hossa is once again experiencing injury concerns.
The good news for the Hawks, however, is that captain Jonathan Toews will travel with the team to Washington tomorrow, and is expected to make his preseason debut against Alex Ovechkin and the Capitals. The game will be broadcast on NHL Network starting at 6pm Central time.