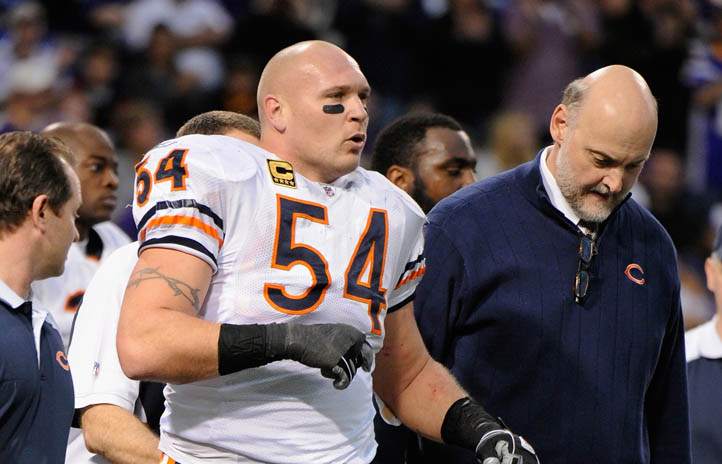 Folks have said Brian Urlacher has the potential to return from an arthroscopic procedure to clean out debris from his injured knee in time to start the season on September 9 because he is a traditionally fast healer.
Team sources said the organization did know the procedure was necessary, but let Urlacher decide the terms.
Urlacher himself was cagey about the procedure -- he told Fox News Monday that all was well, then went for surgery Tuesday morning -- that had the blessing of team doctors.
Teammate Lance Briggs said he didn't even know that team doctors had decided a procedure to clean out debris and reduce swelling.
"I had no idea what was going on I honestly thought he was relaxing," Briggs said laughing. "Just hanging out. Obviously it was more serious than that."
A team source said the drama created by the mysterious surgery was not intended to mislead fans.
"[The misinformation was] not intentional," a team source speaking on the condition of anonymity said. "But it was Brian's body, Brian's decision, they were waiting to see if rest would help the swelling to subside and it did not."
If Urlacher does not make it back in time for the Sept. 9 opener -- which would give him about 3 and 1/2 weeks of recovery -- either Nick Roach or Geno Hayes will likely fill his spot.
"He's definitely a leader and captain on our team, we want him back," said defensive tackle Henry Melton. "If he isn't ready to go we have roach & some other guys ready to step in. Roach is doing a great job of filling in right now, but it's Brian Urlacher so we're definitely going to miss him"