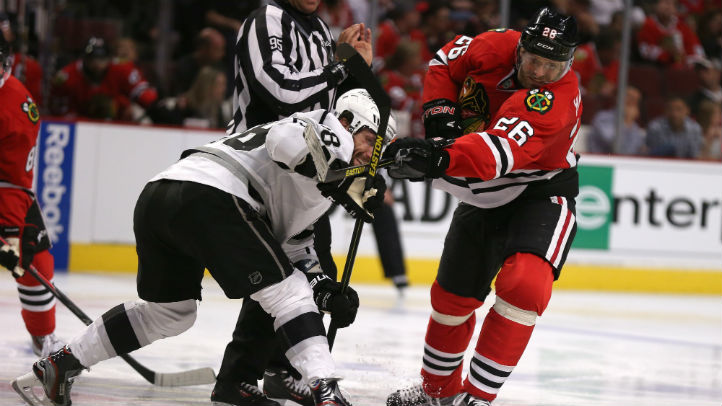 The Chicago Blackhawks got a bunch of good news after their morning skate in Edmonton on Monday night ahead of their game against the Edmonton Oilers.
For starters, Michal Handzus will be returning to the lineup after missing 14 games following an injury he sustained against the Tampa Bay Lightning in October. Handzus will be starting out on the left wing of the second line, with Brandon Pirri still centering and Patrick Kane playing the right wing. He likely won't stay there for the entire game, with both Kris Versteeg and Brandon Saad able to switch onto that line if Handzus needs a rest, but it is still a good thing for the Hawks to get back a veteran forward after suffering several injuries and absences in recent weeks.
The Hawks also revealed that they expect Marian Hossa to return to the lineup on Wednesday night when they face the Calgary Flames. Hossa, who had missed three games with a lower body injury, played on Thursday against the Winnipeg Jets, but had to fly back to Chicago after that game to deal with family issues. The news that he will likely be rejoining the team for Wednesday's game is obviously great news for the Hawks, but it's more importantly great news for Hossa and his family.
Finally, defenseman Mike Kostka also skated with the team during their practice on Monday, and even though he hasn't been activated from the Long Term Injured Reserve list yet, it's looking like he will be soon. He is still going to have a tough time cracking the lineup on a consistent basis, but with Michal Rozsival struggling at times, it is possible that Kostka could force his way in.