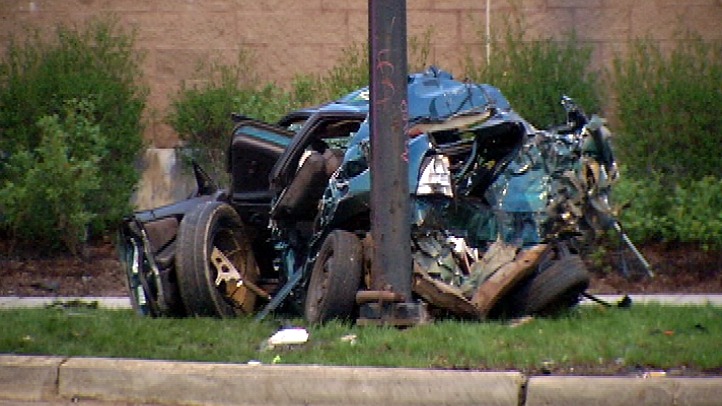 UPDATE: Chavez, with seven prior felonies, ordered held on $550,000 bond...

Charges were brought Monday against a 36-year-old Chicago man accused of causing a Saturday crash that killed two young children.

Joey Chavez, of the 2200 block of St Louis Ave, is charged with two felony counts of aggravated DUI resulting in death and two felony counts of aggravated DUI resulting in bodily harm, among other charges, in connection with the crash on the city's southwest side.

A statement from police seems to coincide with what witnesses said: that an SUV apparently trying to escape a fender-bender crashed into an oncoming car at 6:30 p.m. near 45th and Western. The car was carrying a family of five, police said.

Eric Ochoa, 5, of the 4200 block of South Artesian Avenue, was pronounced dead shortly before 8 p.m. at Mount Sinai Hospital, according to the Cook County Medical Examiner's office. His sister, 10-month-old Julissa Ochoa, died 21 minutes earlier at John H. Stroger Jr. Hospital of Cook County.

The children's father remains in the hospital, At a vigil Sunday night where a memorial near the accident scene continues to grow with flowers, stuffed animals and candles, their mother spoke of her loss.

"I'm just dead inside," said Bernice Cabrera. "I have no tears left inside of me. I've cried everything I could, and I know it's going to hit me again. Keep me in your prayers, my family and everybody."

After speaking, Cabrera and others released about a dozen white balloons into the sky. They said it was their way of saying goodbye to the children.

Chavez was hospitalized after the crash.

The full list of Chavez's charges:
Two felony counts of Aggravated DUI Resulting in Death,
Two felony counts of Aggravated DUI resulting in Bodily Harm
One Misdemeanor count of Leaving the scene of an Accident,
One Misdemeanor count of Failure to Give Info/Render Aid
One Misdemeanor count of Driving on a Suspended License, all misdemeanors.
One ordinance violation for Failing to Keep in Lane,
Two ordinance violations for Disobeying a Red Circular Steady Signal/ Stop,
One ordinance violation for Failing to Reduce speed,
One ordinance violation for Damage to Public Property.
Police did not supply a booking photo of Chavez. NBC Chicago is working to obtain one. Chavez is due in bond court on Tuesday morning.