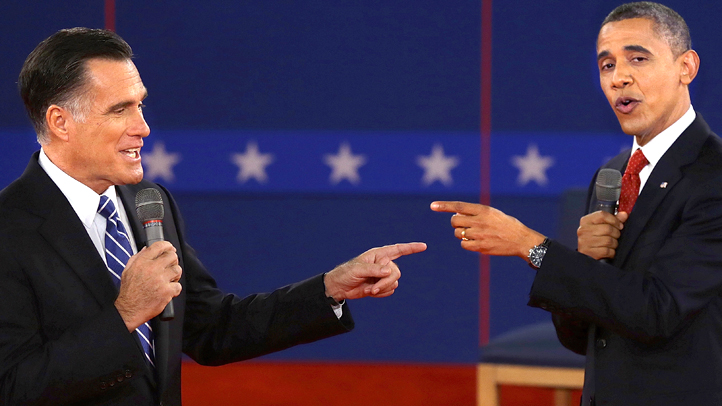 Who won Tuesday night's debate?

An informal survey of NBC 5 viewers voted 2,558 to 991 that President Barack Obama prevailed.

That's a reversal of results from the last debate, when viewers voted 1,946 to 933 that former Gov. Mitt Romney won the Oct. 3 match.

Then again, Tuesday's discussion could be categorized as a much different debate from the first, with heated exchanges on issues ranging from Libya to immigration policy to education. Obama's camp called the president re-energized after critics described his first performance as lackluster.

"President Obama clearly won tonight's debate," Obama's campaign manager Jim Messina said in a statement after the debate. "The American people saw their leader tonight – a strong, steady and decisive president with an affirmative vision to move this country forward and build the economy from the middle out, not the top down."

Sen. Rob Portman of Ohio, who helped Romney prepare for Tuesday's debate, said the same can be said for the former governor. Though Portman agreed Obama's performance had improved, he said the detail on policy remained the same.

"Look, the President clearly came out in a different style tonight," Portman told NBC's Brian Williams Tuesday night. "We knew he was going to come out swinging, and he did. But that doesn't change his record, it doesn't change his vision for the future."

As for the contentious Libya exchange regarding the Sept. 11 attack on the U.S. Consulate in Libya, Portman maintained Obama did attend a fundraiser the next day as Romney suggested and "the White House continued to say what was indefensible."

The back-and-forth didn't end at Libya. Romney's comments to a question about gender equality even sparked an Internet trend surrounding.

Stephanie Cutter, deputy campaign manager for Obama, credits the reaction to Obama's strategy.

"We talked about many issues that Mitt Romney couldn't answer," Stephanie Cutter, deputy campaign manager for Obama, told Williams. "His answer to what he did for women in Massachusetts is he had a binder full of women. He couldn't answer whether he stands for equal pay."

Cutter said Obama also exposed Romney for his lack of details on his tax and jobs plans.

"The more he exposed Mitt Romney on what he was saying ... the more Mitt Romney got combative."

Portman applauded Romney's energy and said he accomplished his goals.

"You can change his style," he said of Obama, "but that doesn't change the reality that you've got a lousy record, you didn't try to defend it and then you also haven't laid out for the undecided voter what's going to change in the next four years."

The final debate, focused on foreign policy, is scheduled for Monday.