Jake Arrieta's contract status loomed over the Chicago Cubs throughout the season, but he still had a solid year for the North Siders as he put up 14 wins and struck out 163 batters in the final year of his contract with the team.
Arrieta, who will undoubtedly be an attractive free agent this offseason, saved some of his best pitching performances for the postseason, and although the Cubs came up short in the NLCS, he showed once again why he is considered a big game pitcher.
With that in mind, here's our look at how he did in 2017, and what we can expect from him moving forward into next season.
Player Overview:
After struggling in the first half of the season, Arrieta seemed to find his form in the second half, posting a .215 batting average against and a 2.28 ERA in 12 starts after the All-Star break.
He continued that strong pitching into the playoffs, where he gave up just one earned run in 11 innings of work for the Cubs. He also scored their lone win of the NLCS against the Dodgers, pitching six and two thirds innings of one run ball as the Cubs won at Wrigley Field.
Contract Status:
Arrieta is an unrestricted free agent, meaning that he will be free to sign with any team this winter. The Cubs did give him a qualifying offer, which ensures that they will be compensated with a draft pick if he signs with another club.
With Yu Darvish's struggles in the postseason, it's entirely likely that Arrieta will be the top-paid pitcher on the market, and the Cubs may not have the money to shell out to retain his services.
Key Stats:
Arrieta had slightly worse luck in the 2017 season, as his batting average on balls in play went up by nearly 40 points to .279. That can be partly attributed to a slight dip in velocity, but it can also be blamed partially on the Cubs' defense being worse than it was when it was historically good in 2016.
Arrieta also gave up home runs at a higher clip, indicating that he was allowing a bit more hard contact. His home run-to-fly ball ratio shot up to 14 percent, the highest level it's been since his 2012 season with the Baltimore Orioles.
He ramped up his velocity as the season wore on, but his ability to get hitters to swing and miss is key to his game, and he'll need to find that again if he's going to remain a successful pitcher.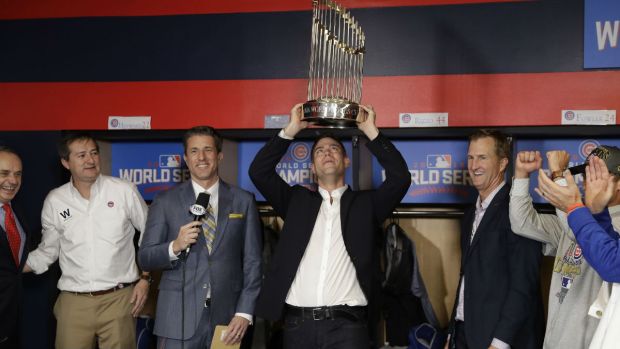 2017 Chicago Cubs: A Year In the Life of the Champs
Best Game of 2017:
Arrieta didn't throw a no-hitter in 2017, as he had the previous two seasons, but arguably his best effort of the season came in an August loss to Arizona.
In that game, Arrieta gave up just three hits and one earned run, and struck out eight batters. More importantly, he induced 10 ground balls, using great sinking action on his pitches to thwart the Diamondbacks' hitters. Unfortunately, an error by Addison Russell on a potential double play ball allowed Jake Lamb the chance to knock in two runs, and the Cubs ultimately fell.
Outlook for 2018:
Obviously we don't know where Arrieta will be plying his trade in 2018, but we can guess he'll go to a team with a lot of playoff potential and some money to spend. The Cubs do fit that bill, but other teams like the Los Angeles Dodgers do as well.
If Arrieta leaves, the Cubs will have to likely add a third or fourth starter to their rotation, and players like Alex Cobb could potentially fit that bill.