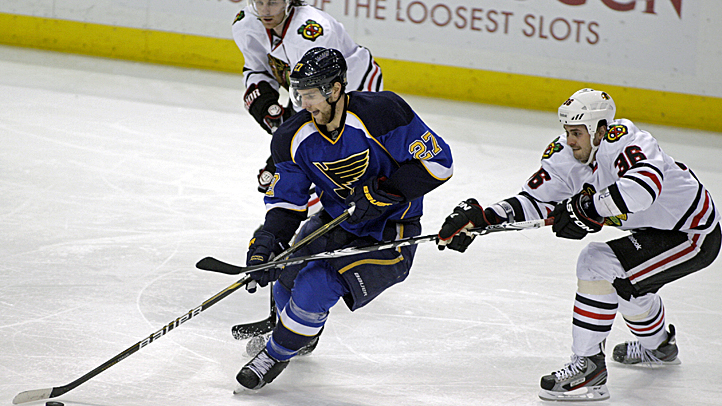 While you'll read a lot about energy and hits and work ethic elsewhere about the Blackhawks' loss, it boils down to the same bugaboos that's affected them since the calendar turned. An iffy goal against, horrific special teams, a failure to take what's there against a stout defensive team.
Make no mistake, the Hawks power play was the main culprit Tuesday. It had a chance to take the lead early, it had mulitiple chances to get them back in the game, and it didn't even come close.

More worrying than that pathetic display is Joel Quenneville's response after that it failed because of effort and intensity.
That's a complete non-answer.
The Hawks would only lack energy if they were consistently dumping the puck in on the power play and failing to retreive it. But that would suggest they have a plan on the power play, and they don't.

They try to carry it in when the other team is stacked up against that ploy. They dump it in with no one moving through the neutral zone. When they do finally get established, if they ever do, they aren't told to move and create openings. That has nothing to do with intensity. That's coaching and planning. He doesn't have any answers though, and he hasn't for a while.
Beyond the power play, the Hawks failed to be patient with the Blues as they were when they last met at the United Center. In that game, the Hawks, for the most part, were content to be clean as they could in their zone, chip pucks deep in the Blues zone and wait for chances. Those didn't come until the 3rd, as they might. They eschewed carrying the puck in, or pretty plays, or anything complicated. That kept the Blues close enough to strike.
They didn't do any of that tonight, and kept falling into the quicksand that St. Louis turns the neutral zone into. You can't get anything going that way.
Whatever. 2-1 on a road trip without Jonathan Toews rises above acceptable. No one should be throwing themselves off a roof or bridge or anything.