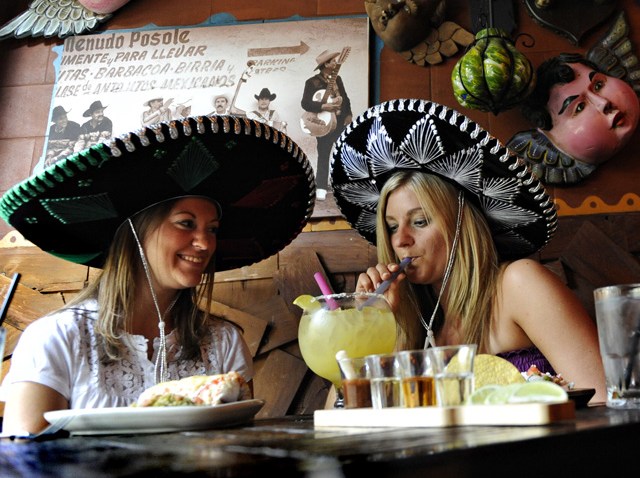 It wouldn't hurt to bone up on your Espanol -- and do a few extra crunches -- before taking advantage of the 312 Dining Diva's weekend picks:

Top Pick: Edible Fashion
Friday, 8-11p.m. Tickets: $50. BYOB (get booze on premises
The theme's Feast and Fashion for the monthly Clandestine affair -- you know, those secret underground dinner parties where guests don't find out the location until the day before the event.

What we can tell you is that it's taking place in a Lincoln Park supermarket, where local designer Anke Loh should intrigue diners with her offbeat headpieces made from veggies and snacks. Models will strut their stuff down the supermarket aisles and food-ish jewelry will adorn guests who want them. Additional entertainment includes DJ Moppy spinning and Yuri Lane "beatboxing" on a harmonica.

FRIDAY
Raise your hand if you love freebies. The new dealio over at Nacional 27 isn't exactly free, but how can you be disappointed when they're doling out paella and tapas for $2.27?! The after-work gig happens in the lounge, where you can chow down on as much as you like from 5-7pm Fridays. And if you're not too full, hang around for Miami Nights, the sizzling South Beach party with DJ Cairo. 9:30pm-2am. No cover.

SATURDAY
Get an early start on celebrating Mexican Independence Day (Sept. 16) with Salud's sixth-annual Tequila Festival. In addition to giveaways, they're doing $4 Modelo Especial and Negra Modelo drafts, plus you'll get to dance to a 10-piece salsa band. 8pm-3am. No cover.

SUNDAY
Go loco over the new brunch menu at Angels & Mariachis, approps named Sombrero Sundays. Come in wearing a big-ass sombrero (you can also buy one at the bar for $20) for 50 percent off your beverage tab. Also, with a purchase of an entree, you'll get a bottomless Mimosa for $20 (Does that mean it's only ten bones with a sombrero?!). Signature dishes include the Chilaquiles (crispy corn tortillas topped with cheese, onions, sour cream and two eggs) and Huevos rancheros (tortillas with two scrambled eggs, ham, tomatoes, cheese and house-made red ranchero salsa). 11am-3pm.

MONDAY
River North mainstay Zocalo celebrates its third-year anniversary and Mexican Independence Day through Sept. 17. For $30 per couple, you'll get three courses, including guacamole and chips, grilled flank steak in a pasilla broth, and a roasted poblano pepper stuffed with ground pork and beef.