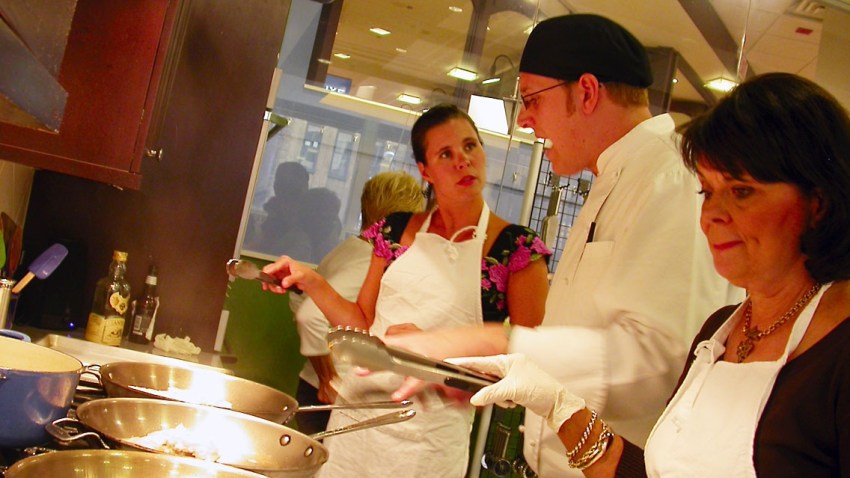 Throwing your own Oscar Party this year? If you're making your own food, you might want to hone your culinary skills a bit the week prior at one of The Chopping Block's classes which have all been re-named in honor of classic movies and television shows.
At the Lincoln Square location, get your appetizers in winning condition at The Best Hors d' Oeuvres of Our Lives: Red Carpet-Style Appetizers class on Tuesday, Feb. 17 at 7 p. m. On Friday, Feb. 20 at 7 p.m., attend Like Water for Chocolate to learn how to make romantic Mexican dishes. If you've got a little more time on your hands, sign up for The Green Mile: Vegetarian Boot Camp, a three day immersion into vegetarian cuisine, taught Friday, Feb. 20-Sunday, Feb. 22. from 10 a.m. to 1 p.m. each day. At the Merchandise Mart, one of our favorite classes offered is called As Good as it Grits: Southern Brunch, offered on Sunday, Feb. 22 at 11 a.m. Who says you can't serve brunch food for the Oscars? Class prices vary from $40 to $275 for the three-day vegetarian series.
Additionally, the weekend of Feb. 21-22, get 20 percent off everything in the store for anyone who comes in to shop dressed in their best Hollywood Oscar Night black tie outfit. Dig out that old prom dress or tux!
Call the Lincoln Square location (4747 N. Lincoln Ave.) at 773-472-6700 or Merchandise Mart location (Suite 107) at 312-644-6360 or visit the official web site to reserve your spot.