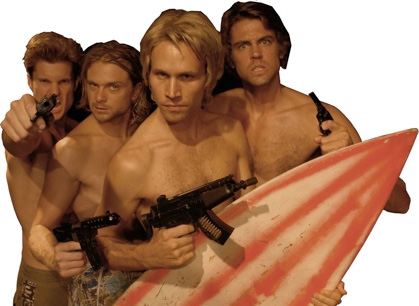 A theatrical play dedicated to the wooden acting skills of Keanu Reeves is headed to Chicago.

The stage adaptation of Point Break Live!, a 1991 Reeves/Patrick Swayze movie directed by this year's Oscars darling Katheryn Bigelow, premieres March 19 at the New Rock Theater after extended runs in Seattle, Minneapolis, NYC, LA and San Francisco.

Just like the movie, it tells the story of former college football star turned FBI agent Johnny Utah, played by Reeves.

But the twist in the play comes with the character who play the lead role -- a random audience member. The actor is auditioned on stage and chosen by audience applause, and that person gets to play action hero Johnny Utah for the night using cue cards -- a method that ends up being eerily reminiscent of Reeves', shall we say, raw acting style.

The Web site describes the show as a "high-action punk rock-style theatrical experience complete with excessive gunfire, swearing, chase scenes, fight choreography, football tackles, fake blood, explosions, and of course an indoor monsoon."

Now if they could just figure out a way to bring "Speed" to the stage.

Through May 30, New Rock Theater, (3931 N. Elston Avenue), Tickets $15-$25


View more news videos at: http://www.nbcchicago.com/video.