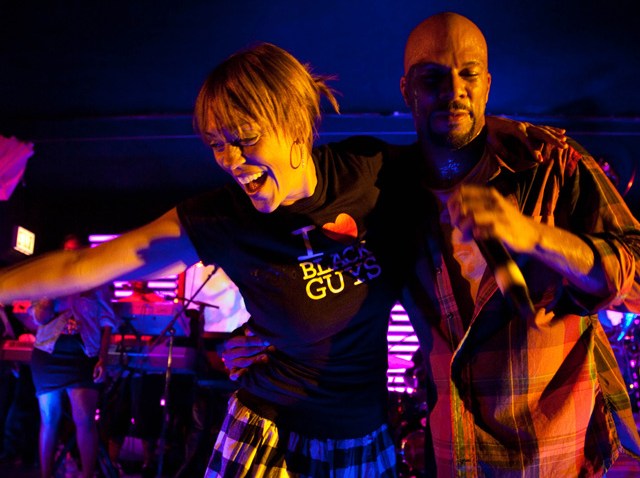 Many Chicagoans don't venture past Madison for entertainment purposes -- or for any reason for that matter -- but live music lovers, particularly hip hop, should be taking note of what's going down at The Shrine (2109 S. Wabash).

Since opening just a few months ago, owner Joe Russo (Funky Buddha Lounge, Sinibar), has brought in a who's who of old school hip hop artists, like Slick Rick, Rakim and Grand Puba, as well as newer jacks like Ludacris.

But last Saturday, while thousands were packing Soldier Field for the first U2 concert, a show was going a few blocks away that left many in the crowd walking away in awe at the kinetic energy produced inside Coup d'etat, the Shrine's VIP and special events section.

Nobody doubted that Common would come correct for his hometown, or The Roots, unquestionably the best live band in hip hop. But it was the "surprises" that left many shaking their heads.

The first came in the form of Zoe Kravitz and her band, Elevator Fight. Yes, the offspring of Lenny and Lisa is old enough to front her own band. After being introduced by Common -- who let the cat out of the bag about her famous parents -- Zoe cracked that there'd be a urine test after the show. Then she thrashed her way through a handful of songs that left little doubt what the outcome of said test would likely be.

Then came the collective gasp from the old heads in the crowd when the "Overweight Lover" himself, Heavy D, strolled onto the stage and ripped through some of his old favorites and some newer reggae-tinged material.

It was all part of the Hennessy Artistry Series, which moves on to Atlanta, Houston and New York over the next few weeks.

As for live hip hop in the South Loop? It's obviously alive and well.