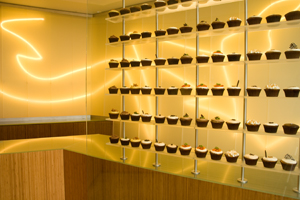 There are wine flights. There are cheese flights. And now there are even cupcake flights. How can this possibly be a bad thing? MORE cupcake boutique, One East Delaware Place, has several new flavors for the holiday season. Within their aptly named ''Wine and Cheese Flight'' are the apple Gorgonzola, the champagne Brie, the Camembert Sauternes and pear, blue cheese and port flavors. If the idea of mixing cheese with your baked goods doesn't do it for you, there's also a ''Holiday Flight'' comprised of gingerbread, chocolate mint, white chocolate peppermint and red velvet. Sometimes the standards are the way to go.

Other fun flights you won't see in a Hostess box:
Champagne Flight: Bellini, mimosa and Kir Royale
Cocktail Flight: margarita, pina colada, mojito
Sunday Morning Flight: Bloody Mary cupcakes topped with a variety of garnishes
All flights include six cupcakes and range from $9.50 to $11.50 each. If you're on tap for bringing a holiday appetizer or dessert to your next holiday party, the flights are available by special pre-order in sets of 16 or 30. Orders require a minimum of 48 hours notice. To place an order, call MORE at 312-951-0001.