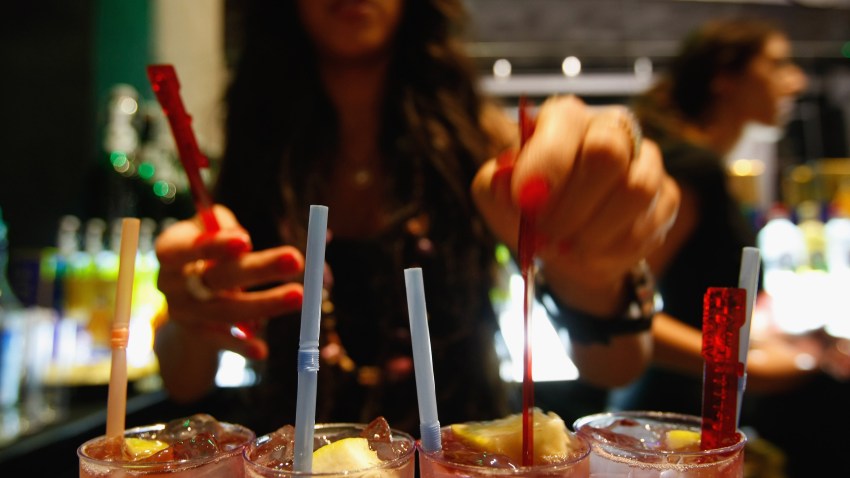 Relive your youth (with some decidedly adult diversions thrown in) at Kit Kat Lounge and Supper Club's new weekly patio party series featuring alfresco film screenings and complimentary alcoholic Sno Cones. The Lakeview dining and drinking destination will debut the soiree on Thursday, Aug. 6 continuing through Aug. 27.
We know what you're thinking. How is an adult Sno Cone different than any old blender drink? Kit Kat's concoctions are made with DeKuyper "Burst Bar Shots" flavors like "Sex on the Beach," "Kamikaze," "Red Headed," "Washington Apple" and "Lemon Drop." Plus, as we mentioned before, they're free. Once the brain freeze wears off, you can also indulge in $5 Vox vodka cocktails and Cruzan rum mojitos and half-priced bottles of wine (with the purchase of two entrees).
Speaking of food, Kit Kat executive chef Mark Kasper will create a fun menu item to coincide with each week's movie theme. The inaugural event, which will feature a showing of "Back to the Future," will offer a dish of meatloaf with thyme jus, pommes puree and glazed baby carrots ($19) to reflect the 1950s feel of the flick. Subsequent showings will include the original "Willy Wonka" on Aug. 13, "The Wizard of Oz" on Aug. 20 and "Fame" on Aug. 27. All films will roll at 9PM.
Prizes and DeKuyper giveaways will be awarded each week, including free passes to see "The Time Traveler's Wife" given away at the Aug. 6 event and passes to the new version of "Fame" at the Aug. 27 soiree. Tarot card reader Therese Murphy will also be on hand to pique guests' interest.
Copyright FREEL - NBC Local Media