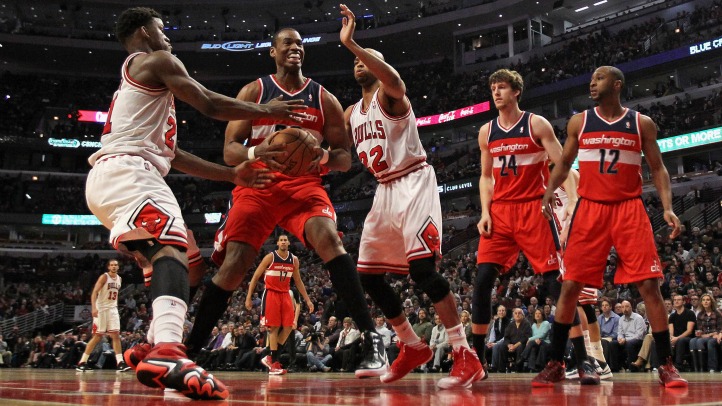 What do the Los Angeles Lakers and the Chicago Bulls have in common? Both teams moved up in the playoff standings on Wednesday night and will go into the postseason without their superstar. Chicago knocked off the Washington Wizards at home, 95-92, needing a win or an Atlanta Hawks loss to take over the fifth seed and the right to play the Brooklyn Nets in the postseason.
The Hawks fell to the Knicks, 98-92, and will now face the Indiana Pacers in the first round, a situation the Bulls desperately wanted to avoid.
The Good
Chicago got a balanced offensive attack from their starters, with four scoring in double figures. Carlos Boozer (19 points, 15 rebounds) led the way while the Bulls also got strong games from Kirk Hinrich (18 points, five assists), Nazr Mohammed (17 points, seven rebounds) and Jimmy Butler (13 points, six rebounds). The defense forced the Wizards into 42 percent shooting for the game, while outscoring their visitors, 40-30 in the paint, 16-9 in second chance points and 11-9 on the fast break. Chicago led by as many as 21 points in the first quarter and Washington never held a lead of any kind.
The Bad
Washington's bench severely outscored the Bulls, 43-23. Chicago also committed 15 turnovers and Washington capitalized with 20 points scored.
The Ugly
Marco Belinelli (four points) didn't shoot the ball well at all going 2-8 in the game, coming off the bench. Luol Deng (five points, five rebounds, five assists) also struggled shooting going 2-7 in the game, but he did hit a huge three-pointer late to give the Bulls a seven point lead with just under two minutes to play.
Normal 0 false false false EN-US JA X-NONE /* Style Definitions */ table.MsoNormalTable {mso-style-name:"Table Normal"; mso-tstyle-rowband-size:0; mso-tstyle-colband-size:0; mso-style-noshow:yes; mso-style-priority:99; mso-style-parent:""; mso-padding-alt:0in 5.4pt 0in 5.4pt; mso-para-margin:0in; mso-para-margin-bottom:.0001pt; mso-pagination:widow-orphan; font-size:12.0pt; font-family:Cambria; mso-ascii-font-family:Cambria; mso-ascii-theme-font:minor-latin; mso-hansi-font-family:Cambria; mso-hansi-theme-font:minor-latin;} Follow Outside Shot on Twitter (@Outside_Shot) for more Bulls news and information