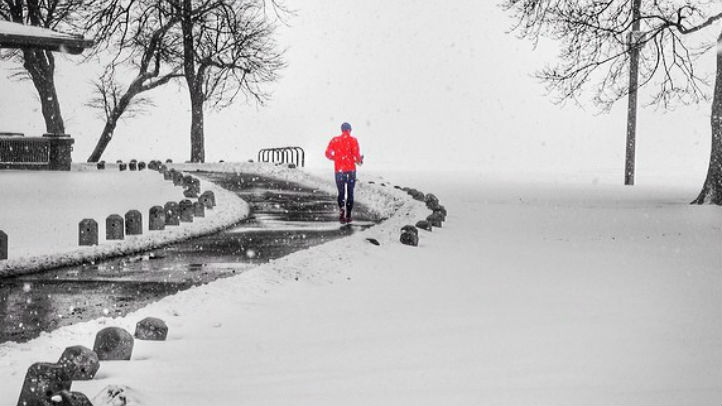 When winter rears its frosty head, I don't stop running. Despite what many think, running can be a year-round sport, but you must have a plan of action to deal with the changing elements.
In previous years, I would slog through the miles hoping to make it through the season injury-free. This winter I'm thinking longer term. My winter training plan isn't about getting through but getting ready for the spring. In the fall of 2015 I plan on running my first marathon and the preparation starts this winter.
Here's what my winter running plan looks like:
Running Club
I've been running with my club now for a couple of months, and they are a great source for accountability to get out the door during those cold snaps this winter. I'm lucky to have found a great running group that's supportive and dedicated. Winter weather isn't an excuse to skip the run -- it is the reason to run. That's the mentality I've taken on this winter, and I have my running club to thank for that.
Cross Training
A key element to improving any runner's performance is cross training. For me, it's
Focus T25
by Beachbody. Gimmicky, right? Definitely not. It's a 25-minute focused fitness program with an assortment of workouts. There's a pretty rigorous schedule that comes with the program, but since running is my focus I plan on taking on these workouts a couple times a week.
I'm three weeks into this program and know it has benefitted my weight loss and my running. At the heart of this program is a lot of core work. This type of focus has made me a stronger runner as well as built my up my endurance.
Gear Up
If you're serious about running through the winter, then you need the gear to support it. I made a couple of early investments in my gear since winter's coming early.
A winter face mask is something I thought only skiers used, but it turns out that it's also great for runners. My winter training in the past always left my neck and face completely exposed to the elements resulting in dry, rough skin. I bought a breathable microfiber face mask at a decent price that'll keep me comfortable and protected.
The other purchase is a pair of gloves. I ran with a pair of fleece gloves up until this year, but running with a smartphone makes it challenging. Luckily there are plenty of styles of touchscreen-enabled gloves now that keep your hands warm and iPod running.
Don't let the cold of winter keep you from reaching your running goals this year. With a plan, winter running can still produce some great results. And if that isn't enough motivation, consider going on a run to handle the holiday stress. The cold, fresh air of winter can do wonders.
Chris Narbone is a Chicago runner who heads up Amplify Running, a blog about gear and technology for runners.