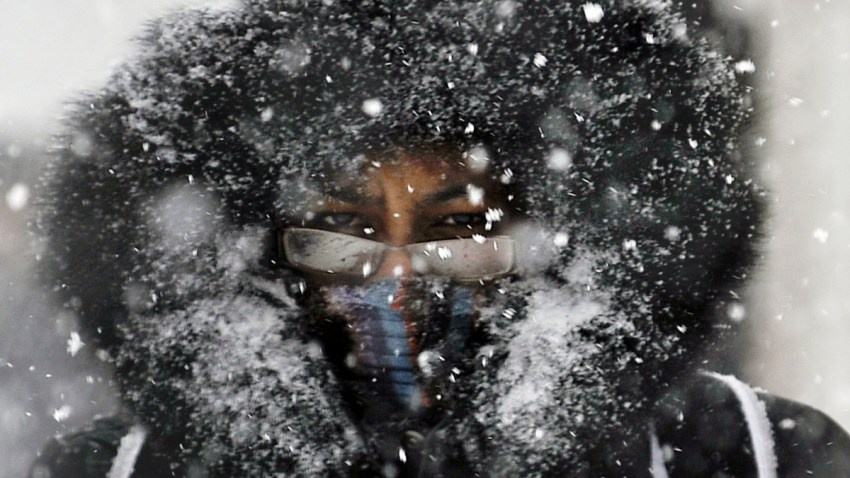 Monday was so cold, the city issued emergency warnings on its phone system, urged residents to check on the elderly and even warned people to just stay home.
Tuesday is a bit better -- a bit less bitter -- with highs in the 20s, but a winter weather advisory will bring with it 2 to 5 inches of snow. Windchills will stay around zero. [Send us your snow photos]
On one of the busiest travel days of the year, weather conditions are messing up a lot of plans.
At 10:45 a.m., O'Hare was reporting 30 to 90 minute delays, with more than 250 flights canceled. Midway had only 30 minute delays, with no cancellations. [Check delays at O'Hare, Midway]
It was so cold on Monday, Chicago parks officials closed the ice skating rink at Millennium Park. And the cold may have had something to do with pipes bursting at a Tinley Park hotel.
Subzero temperatures early Sunday and Monday drove homeless people into shelters. Officials gathered at dawn at the city's joint operations command center, and an automatic phone message system warned residents of the cold. [
Sign up for the city's emergency phone system
.]
With wind chills falling to 20 to 30 below zero, Jennifer Martinez of Chicago's Office of Emergency Management and Communication said social service workers are checking on the well-being of people on the streets and the elderly who live alone.

She urged residents to call 3-1-1 if they are concerned about their own safety or a neighbor's.

Early Sunday, Chicago had all of its 274 snow plow trucks out on the streets to clean up overnight snow. It was the sixth time in six days that the city has had to call out the trucks.

Matt Smith, spokesman for the city's Department of Streets and Sanitation, said officials were monitoring Tuesday's expected snow storm as well.
Again on Tuesday, the city is asking that anyone who is able to stay indoors do so.
If you're sitting in a cold office, try warming yourself with this.
Copyright AP - Associated Press