A bright flash lit up Midwestern skies once again Wednesday night, one day after a meteor entered the atmosphere causing a massive "boom" to be felt in Michigan.
Police and social media users reported seeing the latest bright flash in the sky just after 11:45 p.m. Wednesday in Indiana.
"A bright blue green flash was witnessed by officers in Shelby, Rush & Henry CO at approximately 11:50 p.m.," Morristown Police tweeted.
Authorities said there were no reported of power outages following the flash, but noted it "may have been a meteor" or possibly a shooting star.
Social media users flocked to report the sighting as well, sharing photos and videos of the scene as it unfolded.
A bright blue green flash was witnessed by Officers in Shelby, Rush & Henry Co at approximately 11:50 pm on 1/17/18. Our Officer witnessed the light to the NE of Town. At this time we have not receiving any reports of power outages, may have been a meteor, aka: shooting star.

— Morristown PD (@MorristownPDIN) January 18, 2018
@WTHRcompic.twitter.com/zF6rxRjWS2

— Brett Middlesworth (@blmiddle6) January 18, 2018
I was driving and whole sky lit up

— Nic Broyles (@nkbroyless) January 18, 2018
Saw this flash in Wayne County as well. Bright enough through my window I went outside to make sure no one way on my property

— Matt Palmeri (@palmeri2519) January 18, 2018
It was very bright...like lightning-I was east along I70 approaching Mt Comfort

— Angela Buchman (@angelabuchman) January 18, 2018
It was soooo bright. Lit up the sky green for a second.

— ❁ Anna (@channeldeluxe) January 18, 2018
Anyone in #Indy see a flash outside???

— Emily (@EmmyDG) January 18, 2018
The National Weather Service in Indianapolis confirmed it received reports of a flash in the sky, noting that meteorologists also saw the light burst, but could not confirm what it was. Meteorologist Angela Buchman at NBC's Indianapolis affiliate station WTHR, reported witnessing the flash as drove on Interstate 70 on the east side of the city.
According to the American Meteorological Society's website, there were numerous of reports of a meteor sightings around that time in Indiana, Illinois, Kentucky and Ohio.
What exactly the flash was, however, remains unclear.
On Tuesday night, the National Weather Service in Detroit confirmed a meteor broke apart about 20 miles above ground over Michigan. An "atmospheric compression wave" then hit the ground, causing a loud "boom" and what the USGS said was the equivalent of a 2.0 magnitude earthquake.
'Fireball' Lights Up Midwestern Sky, Sets Twitter Ablaze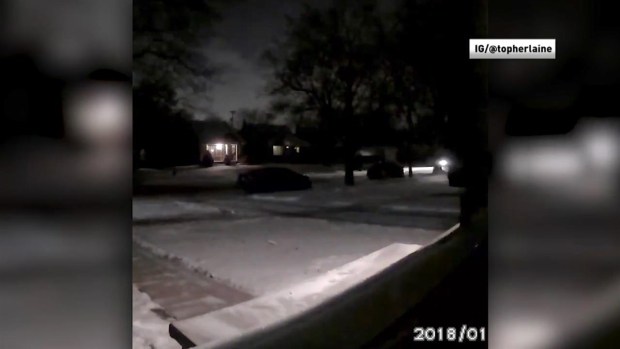 "Some small fragments may have reached the ground downstream," the NWS Detroit tweeted.
The meteor was about 6 feet in diameter and was traveling around 28,000 mph, officials said.