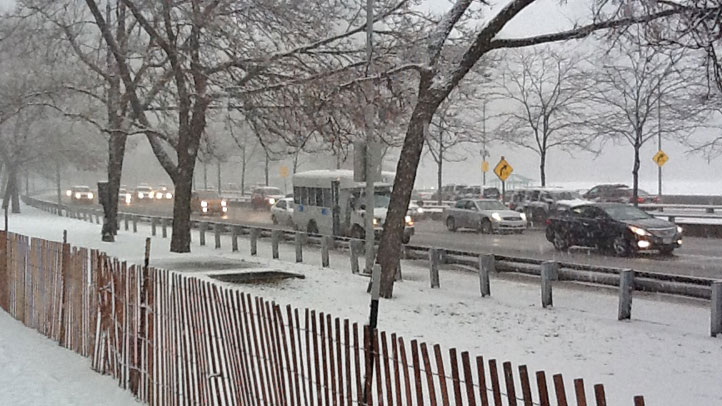 The National Weather Service on Thursday used the term "particularly treacherous" in its prediction of the Friday afternoon commute.

By most accounts, meteorologists nailed it.

Travel times on the Kennedy Expressway from downtown to O'Hare International Airport exceeded 2.5 hours, hundreds of flights were canceled and the Chicago Transit Authority ordered more than a dozen buses off of Lake Shore Drive and onto nearby surface streets.

That order was lifted at about 6:30 p.m., but no doubt added to travel times.

Travel didn't fare much better on the rails. While the CTA was reporting only minor, periodic delays on its website, Union Station was backed up with commuters waiting to catch their trains. Metra's website reported delays on most of its lines, anywhere from 16 minutes to 90 minutes.

Motorists heading toward O'Hare from downtown encountered stop-and-go conditions, with the trek taking more than two hours. A trip down the Edens Expressway from Deerfield to the Circle Interchange clocked in at four hours.

Hundreds of road crews were out battling the storm. The city put out its full fleet of 278 snow-fighting trucks and the Illinois Tollway said it was keeping its fleet of 183 plows on the 286-mile system throughout the overnight hours.

At O'Hare, hundreds of travelers found themselves stranded, with more than 700 inbound/outbound flights at O'Hare canceled. Those flights that were getting out were doing so with delays.

At Midway, Southwest Airlines resumed its flight operations at 7 p.m. after grounding all flights since 2 p.m. More than 100 flights were canceled and lengthy delays continued into the night.

The Chicago Department of Aviation urged passengers to check airline websites for status updates.

Former House Speaker Nancy Pelosi, who was scheduled to speak Saturday at a Rainbow-PUSH event in Chicago, canceled her Friday trip due to the storm.

A Winter Storm Warning went into effect at 9 a.m. for most of the metro area, but had little impact on the morning rush.

"Patience is really going to be the name of the game tomorrow," Beth Mosher of AAA Chicago said Thursday. "If people can leave work early or work from home to avoid driving during rush hour, they should by all means do it."

Mosher advised drivers to keep their vehicle's gas tank at least half-full and to make sure they're carrying a cell phone and car charger, warm blankets, warm clothes, jumper cables and food and water in case they get stranded.

The storm should end in the evening, leaving between four to eight inches, though some lake effect snow showers will continue and could add another 1 to perhaps 2 inches in spots along the lakefront and northwest Indiana.