Snow-covered roads made for difficult travel conditions Monday morning as snow continued to fall for several hours through rush hour.
By 6 a.m., anywhere form 1 to 3 inches had already fallen across the area and was expected to continue through the morning hours. By noon, even higher accumulations were expected, according to the National Weather Service.
Illinois' Department of Transportation said it planned to have 400 plows out through the morning rush hour and warned drivers to allow for extra time in their commutes.
Accidents and spin-outs were reported across coated area roadways, including on the Stevenson Expressway, Interstate 355 southbound after 159th Street, Interstate 88 and on Interstate 90 in Elgin.
Here come a laundry list of crashes...
Jane Addams Tollway OB near Higgins Rd - left lane blocked, police
Edens OB at Old Orchard Rd - crash on the shoulder, police & fire on scene - pole down in the road
Stevenson OB Past 53 - 1 lane blocked, police & fire on scene@nbcchicago

— Jen DeSalvo (@trafficjamjen) January 15, 2018
Transit delays were reported on Metra and Chicago Transit Authority lines as well.
The Chicago area remained under a Winter Weather Advisory until noon.
That advisory began at 6 p.m. Sunday night and included McHenry, Lake, DeKalb, Kane, DuPage, Cook, LaSalle, Kendall, Grundy, Will, Kankakee, and Iroquois counties.
In Indiana, Lake, Porter, Newton, and Jasper counties are also impacted by the snowy disturbance, which is forecasted to dump between three and five inches of snow on the area. Porter and LaPorte counties will also be under a Winter Storm Watch Tuesday.
Finally, a Winter Storm Warning is in effect for Kenosha County in Wisconsin. That warning will last until noon on Tuesday, with six to nine inches and reduced visibility possible with the heavy snowfall.
Overall, storm totals are expected to stretch from 3 to possibly even 6 inches.
Monday Forecast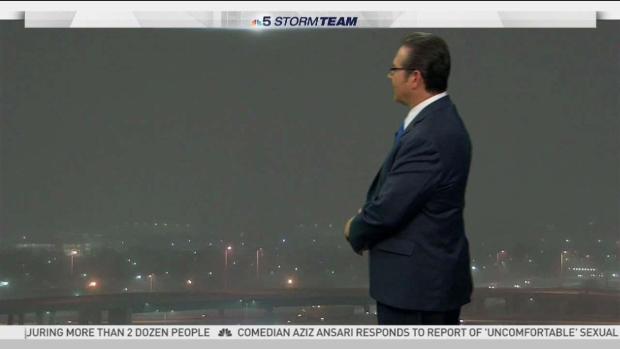 Highs will sit in the low- to mid-20s through the early afternoon before they begin falling once more. Light snow could linger through the evening hours, bringing an additional inch by Tuesday morning.