Another round of storms hit the Chicago area Tuesday night following tornadoes and severe weather in multiple counties across the state.
"It appears the main tornado threat has diminished somewhat as the air mass over northern Illinois has stabilized," the Joliet Weather Service said in a statement Tuesday evening. "But additional strong to severe thunderstorms continue to develop in western Illinois and eastern Iowa marching east-northeastward."
Heavy rain, flash flooding, strong winds, dangerous and intense lightning, and hail were all possible. The service also said chances of another tornado are lower but not entirely ruled out.
"Expect several hours of gusty storms yet to come," it said.
Strong storms moved across the Chicago area Tuesday afternoon and evening prompting numerous watches and warnings and reports of tornadoes in some suburbs.
• Track Storms on Our Interactive Radar
The entire metropolitan area was placed under a Tornado Watch that was later canceled by the National Weather Service.
A Tornado Warning was issued for several counties in the Chicago area. A similar warning was also issued for west suburban counties, including Livingston and LaSalle.
A confirmed "large and extremely dangerous tornado was located over Ottawa, moving east at 45 mph," the National Weather Service reported early Tuesday evening. The agency also said there was a "rope tornado" reported in LaSalle County.
One person was confirmed dead in Ottawa, according to Illinois State Police.
Damage was also reported in both areas.
The storm was also bringing with it "ping pong ball size hail." Hail of up to 1.25 inches was reported in Will County and 2.75 inches in LaSalle County.
A Severe Thunderstorm Warning was issued for numerous Chicago-area counties, including Will and Cook counties in Illinois and Porter and Lake counties in Indiana until 9:45 p.m.
SEVERE T-STORM WARNING for parts of Lasalle County
Winds to 60s mph - Large hail possible
Moving E at 45mph pic.twitter.com/tJnh4IQCIf

— Alicia Roman (@AliciaRomanNBC) February 28, 2017
TORNADO WATCH --> for ALL counties in RED from now through 10pm
Be ALERT and Have a plan!
Tune in at 4pm@NBCChicagopic.twitter.com/MBPAkVhd75

— Alicia Roman (@AliciaRomanNBC) February 28, 2017
The Chicago Department of Streets Sanitation said it will have have crews out throughout the evening to monitor storm damage.
Strong to severe storms were forecast heading into the afternoon and evening hours, bringing with them the potential for large hail, damaging winds, heavy rain and possibly an isolated tornado.
NBC 5 Storm Team: Breakdown of Today's Weather

The Illinois Emergency Management Agency urged residents to prepare for the potential risk for tornadoes and other severe weather across much of Illinois.
"It's critical for people to have multiple ways to receive notifications and updated information about severe weather warnings, such as through a weather alert radio," said IEMA Director James K. Joseph in a statement.
With the high threat of strong to severe weather later today and early tonight. Discuss what to do now. @nbcchicagopic.twitter.com/WamWr5IsVs

— Andy Avalos (@AndyAvalosNBC5) February 28, 2017
Models show strong to severe storms will weaken and taper to showers overnight, turning much cooler as temperatures fall into the 40s.
While the threat of severe weather subsides for Wednesday, the wet conditions remain.
Northwest Suburbs Sees Heavy Rain After Severe Weather Throughout State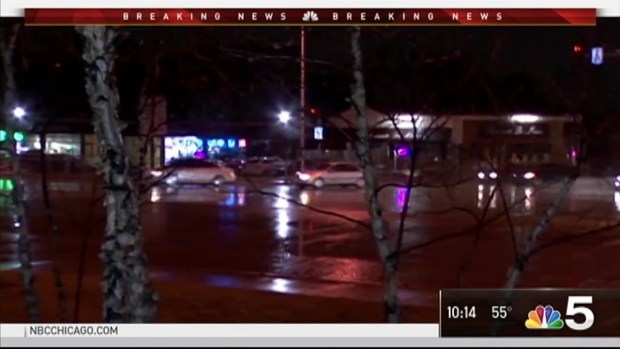 Wednesday will be cloudy, windy, and much colder with light rain that is likely to mix with snow before transitioning into snow showers in the late afternoon and evening.