Chicago's unseasonably cold temperatures marked a frigid start to the weekend, but the city got another wintry reminder Sunday as snow moved into the area.
The season's first big snowfall on Sunday delivered between 1 and 4 inches. The official snowfall total at O'Hare International Airport was 3.1 inches.
As of 6 a.m. Monday, National Weather Service observers reported 4 inches of snow in Beach Park, 3 inches in Downers Grove, 3 inches in Woodstock and 1 inch in Yorkville. Highland, Ind., also recorded 1 inch of snow.
Last season's first measureable snow last year didn't hit Chicago until Dec. 20, with the first snowfall measuring an inch or more not arriving until Jan. 25 of this year, with 1.1 inches.
A winter weather advisory was issued for Kenosha County until 6 a.m. Monday, warning of snow accumulations between 3 and 5 inches.
"The snowfall, along with cold temperatures, will result in roads quickly becoming snow covered and slippery," the alert said.
Several delays were reported at area airports Sunday afternoon. O'Hare International Airport reported up to two-hour delays on some airlines and more than 140 cancellations for flights Sunday. Midway Airport reported more than a dozen flights were delayed up to three hours.
A traffic accident in Racine County, Wis., left all eastbound lanes of Interstate 94 blocked near Seven Mile Road, officials said. The crash, which took place at 10 a.m., shut down lanes for more than two hours. Traffic was being rerouted at Seven Mile Road and could enter again Highway 20, according to WisDOT.
One person was killed in another crash near Milwaukee.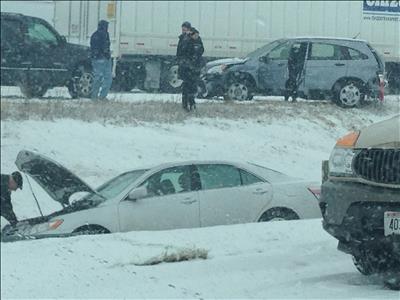 A special weather statement was issued for LaPorte County, Ind., warning of light snow during the mid afternoon hours. The snow was expected to change to a period of freezing drizzle during the late afternoon and early evening hours.
"Anyone planning travel across the area this afternoon into tonight should be prepared for the possibility of slick roads," the alert stated.
Saturday's highs dropped into the teens, marking some of the coldest air to move into Chicago this season. The day started with wind chills below zero and those wind chills rose only into the single digits by the afternoon.
Temperatures were expected to fall into the single digits Monday, with those lows sticking around for much of the week.