Although spring has officially begun, several counties in the Chicago area are under a winter storm warning Saturday morning as snowfall and rain affect the region alongside cloudy skies and windy conditions.
Currently, DeKalb, Kane, Lake and McHenry counties in Illinois, in addition to Kenosha County in Wisconsin, are under a winter storm warning. Latest estimates from the National Weather Service Chicago indicate some far northwest suburbs could receive five-to-nine inches of snow.
The warning began at 4 a.m. Saturday and is currently set to expire at 1 p.m., when snow accumulations are expected to begin to taper off across the area.
Two separate winter weather advisories were issued for additional parts of the area - with one warning of 2 to 4 inches of snow between 4 a.m. and 1 p.m. for DuPage, LaSalle and Kendall counties. A separate advisory, issued for northern Cook County, advises of 2 to 4 inches of accumulating snowfall between 7 a.m. and 1 p.m.
Conditions will likely make for hazardous travel conditions as untreated roads become covered with slushy snow and snow rates peak at around 1-2 inches per hour, particularly during the early to mid-morning hours.
In Lake and McHenry counties, sporadic power outages and downed tree limbs are possible, as well, due to the combination of heavy snow and gusty winds of up to 35 miles per hour, according to the NWS.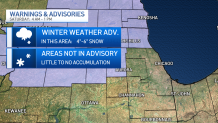 Areas outside of these regions likely will see little to no accumulation, according to the NBC 5 Storm Team.
While suburbs in Kane, DeKalb, Lake and McHenry counties may see a major winter event, Chicago residents and those closer to and south of the city are expected to see mostly rain on Saturday.
The snow is expected to come to an end by the afternoon hours, but the cooler temperatures Saturday will be short-lived.
Highs Saturday will likely sit in the upper-30s, before returning to the 40s for Sunday and into the 50s for the start of the work week.
Sunday also marks the start of the annual Bank of America Shamrock Shuffle 8K race in Chicago. While it is not lined up to be the wet and cold day that Saturday is, there is expected to be quite the chill in the morning.
Temperatures are expected to hover around 29 degrees with partly cloudy skies at the start of the race, with conditions warming to slightly to approximately 33 degrees by 9 a.m. with partly sunny skies.
From there, temperatures will warm closer to 40 degrees by 11 a.m., but cloud cover is likely to take over much of the skies at that time, leading into some likely afternoon showers.