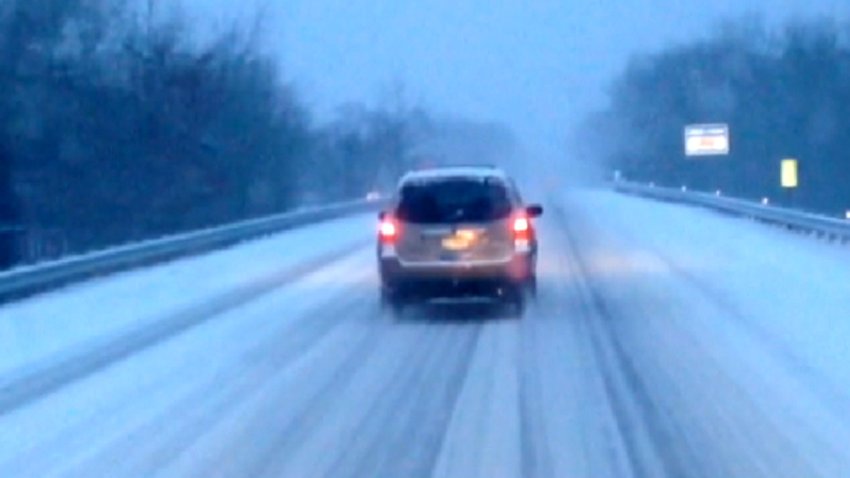 Commuting in dangerously cold and snowy weather isn't easy.
So when the temperatures drop and the snow starts to fall, what can you do to stay safe?
Here are 20 tips from Chicago-area transit agencies for commuting in winter weather:
Chicago Transit Authority
Stay informed on service changes via numerous channels
Sign up for real-time email and text alerts including at transitchicago.com/alerts
CTA makes regular bus and train announcements, listen for them
Follow CTA Twitter account @cta
Use CTA Bus Tracker and Train Tracker to get real-time arrival information
Metra
Email alerts – Customers can sign up to receive service alerts via email for a specific rail line during the times of day that are most important to them. Go to "My Metra" at metrarail.com to create an account.
Track Your Train – Customers can access real-time information about train status and service alerts on Metra's website. Customers can also follow the real-time location of their train using the Line Map feature.
Twitter – Customers can follow each of Metra's 11 rail lines for specific information and receive more general information about agency operations on the agency's main Twitter feed.
Ventra App – Customers can download the app and use the Transit Tracker for information about Metra trains, Pace buses and CTA trains and buses. The free app is available in the App Store or Google Play.
Passenger Services – Customers can call 312-322-6777 weekdays from 8 a.m. to 5 p.m. with questions about train schedules and service.
Illinois Tollway
Call *999 for roadway assistance. Should you encounter car trouble and require roadway assistance, try to move your car to a safe position on the shoulder or in an untraveled area. Report stranded vehicles by dialing *999 from a cellular phone and note the roadway, direction of travel and nearest milepost or crossroad.
Get real-time roadway incident alerts by following each of the five tollways on Twitter. Real-time roadway incident information including the type of incident, location and impact on traffic is also available on illinoistollway.com
Stranded motorists should turn on their emergency lights and remain in their vehicles until help arrives.
Follow these winter travel tips:

Be sure your cellphone is fully charged before heading out.
Be sure tires are properly inflated during cold weather. Tires lose a pound of pressure for every 10 degrees the temperature drops. Check your vehicle owner's manual for recommended tire pressure.
Maintain your vehicle properly. Be sure that lights, brakes, windshield wipers, defrosters, radiator and other parts are in good working order and always keep your gas tank at least two-thirds full to minimize condensation.
Consider using winter or synthetic motor oil for colder temperatures, as conventional oils may thicken in colder temperatures. Check your vehicle manufacturer's recommendations for oil that meets colder temperature ranges.
Prepare an emergency car care kit. Be ready for emergencies with a kit that includes jumper cables, flares or reflectors, windshield washer fluid, a small ice scraper, shovel, traction material, blankets, non-perishable food and a first aid kit.
Check your vehicle at Illinois Tollway oases. Drivers can stop at Tollway oases to check their vehicles or simply take a break during severe winter weather. The oases include 7-Eleven stores and Mobil fuel stations, as well as a variety of food, beverage and retail offerings. There are four oases on the Tri-State Tollway (I-94/I-294/I-80): Lake Forest, O'Hare, Hinsdale and Chicago Southland Lincoln in South Holland. There are two oases on the Jane Addams Memorial Tollway (I-90): Des Plaines and Belvidere. And there is one oasis on the Reagan Memorial Tollway (I-88) in DeKalb.