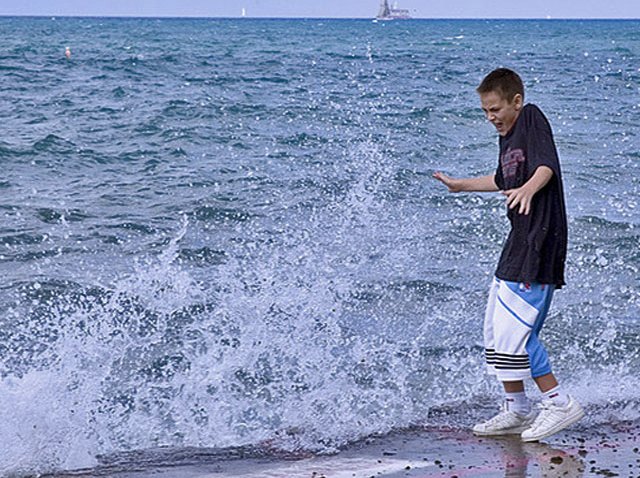 An early shot of autumn-like weather is expected to stir up big waves, powerful rip currents and strong gale-force winds in Lake Michigan over Labor Day weekend.
The National Weather Service on Friday issued rip current and gale warnings for near shore areas in Illinois, Indiana and Michigan, where 14-foot high waves were expected overnight and Saturday morning.
"People should use their own caution about going in the lake," NWS senior forecaster David Beachler said. "This is pretty substantial. Normally, we wouldn't see [these conditions] until late September or early October. If you are going to the beach we want to give you tools to make your decision. Beware of rip currents. And know the waves you will experience on beaches and in the open lake."
The conditions are caused by a strong cold front blowing through the area and a low pressure system to the north, Beachler said.
The rip current advisory is in effect through Sunday morning for Chicago area beaches, including Lake and Cook Counties in Illinois and Porter and Lake, Porter and LaPorte Counties in Northwest Indiana, according to the weather service.
Northwesterly winds expected to reach 46 miles per hour are expected to create the biggest waves near the Indiana Dunes and in southwest Michigan. Strong winds are expected to diminish by Saturday afternoon, Beachler said.
"You won't have the same waves on Illinois beaches, but you will have the rip currents," he said.
Chicago Park District officials said lifeguards regularly monitor weather and lake conditions and will either restrict swimming or limit access to the lake if necessary.
So far this year, 68 people have died in Lake Michigan. That's the most deaths in at least 8 years and 40 percent more than last year, when 39 people died in the lake, according the U. S. Coast Guard.
This weekend's expected large waves coupled with gale force winds are expected to have an impact on all boat traffic — especially small boats — near the shore and in the open water, Beachler said.
"The waves are pretty significant," he said.

Chicago Sun-Times: How Rip Currents Work
Copyright CHIST - SunTimes