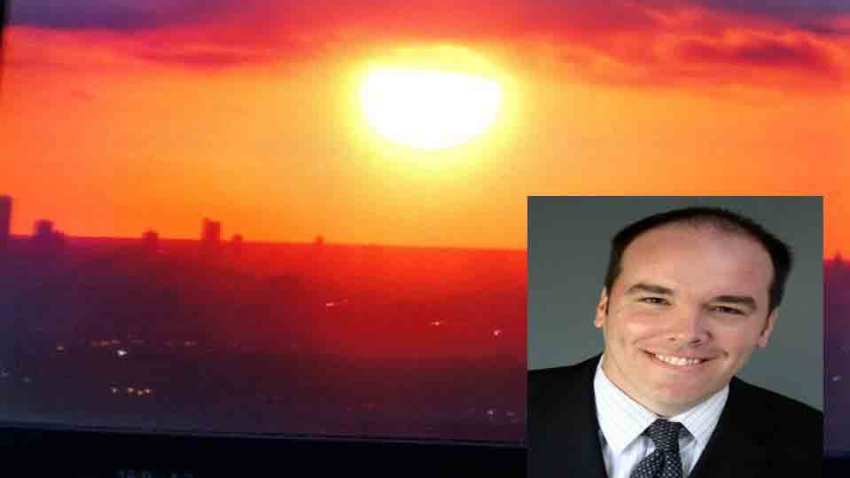 We all know his familiar voice, and have come to depend on him for breaking traffic news, but I wondered, what is the back-story on Mike Lorber?
I discovered quite a bit about the man I am working in tandem with each morning.
Mike started reporting from Sky 5 in the late 1990s, yet he muses that at some point or another throughout his career, he's reported for nearly every radio station in Chicago. However, I'm getting ahead of myself... let's start at the beginning.
Born into an Irish-German clan in Mount Greenwood on the South side, Mike was interested in two things at St. Laurence High School: basketball and music. In fact, during college at the University of Illinois at Urbana-Champaign, Mike thought his career would have him behind a mic at a music station. He DJ'd the overnight shift at the college radio station. In heavy rotation? Rock: everything from Led Zeppelin to R.E.M.
In his free time, he took his DJ equipment to various clubs. He thought for sure he'd make a career out of either music broadcasting, or perhaps sports. When looking for his first job, though, Mike landed at Metro Traffic, which, at the time, had a hot-line of sorts that connected drivers with traffic information and directions. He answered that hot-line, and from there, never really left the traffic niche. Down in Indiana, Mike supplied the traffic at WIMS-AM, and also provided the Color commentary for the Valparaiso Basketball broadcasts.
That would seem like the perfect melding of his two loves: broadcasting and hoops... but the big city was calling. Moving back to Chicago, Mike Lorber was a consistent presence on stations like WBBM and WGN, before 'landing' (pun intended) in Sky 5.
Mike and his lovely wife Jennifer (no kids... yet!) live in Schaumburg, so Mike is just a few minutes away from the airport hanger where the Chopper hibernates. I asked him how he gets going in the morning... is he a coffee man? You bet. He says that caffeine, plus singing in the shower is what revs him up on a daily basis.
Thank Goodness (his words) his wife is a sound sleeper. She's able to snooze right through the former rock DJ's cleansing concert. Follow Mike on Facebook to stay connected to our traffic team, and check out his great aerial pictures.