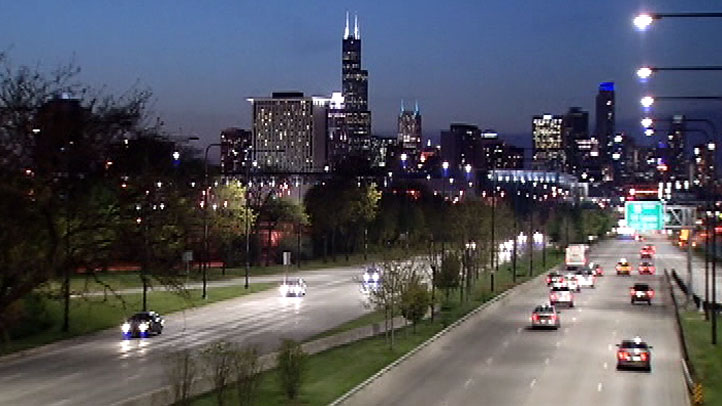 If you're a cyclist, you may have heard of SRAM, a well-respected, high-end bike component manufacturer based here in Chicago. SRAM is not only in the business of making and selling bike parts, it has a rather dynamic community involvement mission.
The SRAM Cycling Fund is run by the former head of Chicago's Active Transportation Alliance, Randy Neufeld. The fund's mission is to direct public and legislative awareness toward alternate transportation ideas. Neufeld believes Lake Shore Drive should be reinvented as a bike and light electric vehicle commuting treat.
Neufeld and the fund hope to limit traditional motor traffic to the two far right lanes of Lake Shore Drive. Neufeld wants to create one protected Bus Rapid Transit lane on the far inside, and next to that, a protected bike and Light Electric Vehicle lane. The idea landed him in Chicago Magazine's "Big Idea' issue.
According to Neufeld, the rapid transit lane would function similarly to the CTA's express bus system. It's essentially a ramped-up express bus that stops only at a few stations along the center of LSD -- North Avenue and Belmont Avenue are likely stops -- without ever leaving that center lane.
Next to it, you have your bike commuters who are not recreating on the lakefront path, they are speeding to and from work in the Loop.
Neufeld says this lane could provide relief to the quickly developing market of LEVs, motorized bikes and scooters, and the electric bikes that are starting to become more prevalent in Chicago.
This idea is still just that, an idea. It leaves plenty of questions to be answered, including queries about initial funding, sustainability, economics and tourism.
What could help this 'big idea' is the fact that mass transit planners are moving in this direction in other cities. Neufeld also points out that LSD has constantly changed with the times, going back to when it was new landfill after the Chicago Fire, home to horses, buggies and street cars.
To learn more about general transportation planning on Lake Shore Drive, Neufeld suggests checking out the agenda of the Active Transportation Alliance, and also mentioned that talking to your local alderman and state representative can be rather effective with an election around the corner this Fall.
Please leave your thoughts in the comments below.