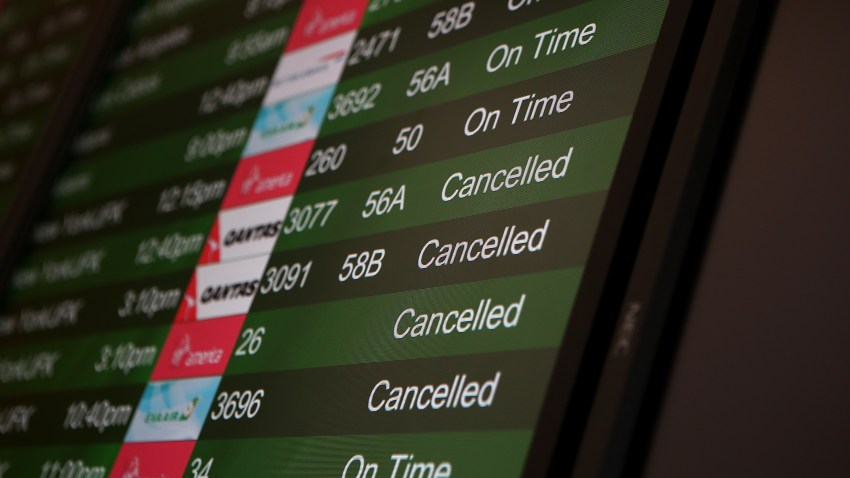 The National Weather Service has extended the winter weather advisory in Chicago until early Friday, causing havoc for air travelers as the first snowflakes began frantically falling Thursday afternoon.
The snow will continue falling through early evening and drop between one and two inches on the Chicago area, according to the weather service. Strong winds will move in Thursday night, resulting in a blustery, hazardous evening commute, forecasters said. A winter weather advisory is in effect until 3 a.m. Friday.
The weather has prompted airlines at O'Hare Airport to cancel 465 flights as of 8:30 p.m., and other flights are running an average of two hours behind schedule, according to the city's Department of Aviation.
At Midway Airport, 110 flights have been canceled and other flights have been delayed by at least two hours, officials said.
The city Department of Streets and Sanitation announced the full snow plow fleet — more than 280 vehicles — was deployed just before 2 p.m. The plows will begin salting and plowing main routes and Lake Shore Drive before heading to neighborhood and side streets.
The Illinois Tollway is also sending out all of its 185 snowplows to prepare roads for the evening rush, the agency said.
Wind chills are expected to dip between 10 and 15 degrees below zero Thursday night, according to the weather service. People should bundle up and take precautions, and bring all pets inside.
In addition to Chicago Public Schools, many other districts in the suburbs called off classes Wednesday and Thursday due to the cold. CPS said classes would be back in session Friday.
Friday will be mostly sunny and cold with the temperature holding steady around three degrees, according to the weather service, and wind chill values as low as 20 below.
Those expected temperatures prompted closures across forest preserve sites in Cook County, according to a statement from that agency. Nine sledding hills, five snowmobiling sites and the cross country skiing location in Lemont will be closed Friday, the statement said. Check http://fpdcc.com/preserves-and-trails/construction-closures-work/ for locations.
Saturday will be warmer with a high near 13 degrees, and Sunday will see a high about 27 degrees.
More than 100 statewide Department of Human Services warming centers are open to those looking to escape the cold. Locations can be found at keepwarm.illinois.gov or by calling (800) 843-6154, according to the governor's office.
The Illinois Tollway has activated its Zero Weather Road Patrols, meaning any driver stranded on a tollway during the extreme cold can call *999 for help. Drivers should also keep cold weather safety kits in their vehicles, with warm clothes, blankets, a flashlight, food and water, and other essentials in case of an emergency.
Metra posted a notice on its website Monday night warning riders that weather and temperature-related speed restrictions could lead to delays or service disruptions through Wednesday. Riders should allow extra travel time.
Some Chicago institutions are taking another approach to the cold weather. Illinois residents can get into the Art Institute, Museum of Science and Industry and Shedd Aquarium for free as a way to beat the cold.