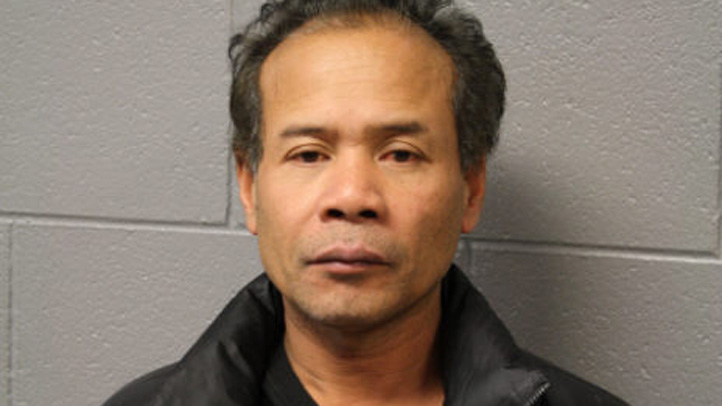 Chicago Police have made an arrest in connection with a hit-and-run accident that left three pedestrians critically injured Sunday night in the West Ridge neighborhood on the Northwest Side.

Reth Yiv, 46, faces three counts of failure to report an accident causing injury, a misdemeanor count of leaving the scene of an accident, negligent driving and three counts of failure to yield to a pedestrian.

Officials said a vehicle traveling west on the 2500 block of West Devon Avenue hit three people at about 8:35 p.m. before crashing into a parked vehicle. The driver then drove off, continuing west on Devon.

Yiv (pictured, right) lives about 15 blocks from where the accident occured.

Quazi Biabani, 68, his 71-year-old wife and his 28-year-old son were injured in the crash and remain hospitalized in critical condition.

"Based on the extend of the injuries, he had to have been going pretty quick," said Ofc. Jose Estrada.
Police had been looking for a black four-door Toyota sedan, possibly a Toyota Avalon, with front-end damage and a driver with long, dark hair.
The family is in the thoughts of members fo the Muslim Community Center where Quazi Biabani prays and teaches.

"It was very shocking news for me. Very, very bad," Muhammed Khan said. "Very shocking news, because he's a very nice and gentle person. Very polite and decent and nice person."