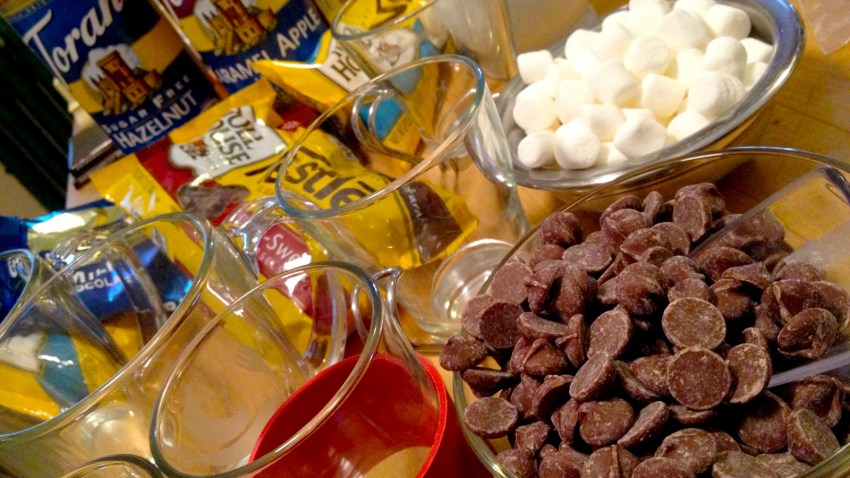 Since it's still cold outside, a creamy cup of hot chocolate is the perfect thing to keep you warm inside. I created three different version for you to enjoy, from mint caramel apple and ginger hazelnut to spicy Mexican hot chocolate steeped with ancho chilies. All of these can be topped with a little white chocolate whipped cream and either garnished with sprinkle of cocoa or mini chocolate morsels. You can also skip the whipped cream and bring back some childhood memories by just sprinkling a few mini marshmallows on top. Each of these recipes makes about 3 cups of hot chocolate, enough for 2-4 servings depending on your desired serving size.

In addition, I enjoy making my grandmother's sand tart cookies to go along with my hot chocolate. I've included that recipe here as well.

Mexican Hot Chocolate

Ingredients

3/4 cu Semi-Sweet Chocolate Chips
1/2 cu Heavy Cream
1/2 cu Fresh Brewed Espresso (or 2 tsp Instant coffee in 1/2 cu hot water)
1 med Ancho Chili, stemmed and seeded
1/2 tsp Chili Powder
1/8 tsp Cayenne Pepper
6 Whole Cloves
1 Cinnamon Stick, broken in half
1 3/4 cu Half-and-Half

Method

Place chocolates chips, cream and espresso in a medium sized bowl over medium high heat. Stir until chocolate melts and mixture is fully combined. Add ancho chili, chili powder, cayenne pepper, cloves and cinnamon. Stir to combine. Add half-and-half and stir until mixture is just about to boil. Turn off heat, cover and let mixture steep for 15 minutes. Strain mixture through a fine sieve and pour into mugs or glasses. Top with white chocolate whipped cream (recipe below) or marshmallows.

Mint Caramel Apple Hot Chocolate

Ingredients

1/2 cu Semi-Sweet Chocolate Chips
1/4 cu White Chocolate Chips
1/2 cu Heavy Cream
6 med Mint Leaves, torn and crumpled
1/2 tsp Ground Cinnamon
1/2 Orange, peel removed and saved then juiced
2 1/4 cu Half-and-Half
2 tbl Caramel Apple Syrup

Method

Place chocolate chips and cream in a medium sized bowl over medium high heat. Stir until chocolate melts and mixture is fully combined. Add mint leaves and cinnamon. Stir to combine. Add half-and-half, orange juice, orange peel, and stir until mixture is just about to boil. Turn off heat, cover and let mixture steep for 15 minutes. Strain mixture through a fine sieve and add caramel apple syrup. Pour into mugs or glasses. Top with white chocolate whipped cream (recipe below) or marshmallows.

Hazelnut White Chocolate Hot Chocolate

Ingredients

3/4 cu White Chocolate Chips
3/4 cu Heavy Cream
1/2 tsp Nutmeg
1 tsp Fresh Ginger, peeled and roughly chopped
2 1/4 cu Half-and-Half
2 tbl Hazelnut Syrup

Method

Place chocolate chips and cream in a medium sized bowl over medium high heat. Stir until chocolate melts and mixture is fully combined. Add nutmeg and ginger. Stir to combine. Add half-and-half and stir until mixture is just about to boil. Turn off heat, cover and let mixture steep for 15 minutes. Strain mixture through a fine sieve and add hazelnut syrup. Pour into mugs or glasses. Top with white chocolate whipped cream (recipe below) or marshmallows.

Hot Chocolate Topping Options
White Chocolate Whipped Cream (recipe below)

Cocoa Powder

Mini Chocolate Chip Morsels

Mini Marshmallows (optional topping instead of white chocolate whipped cream)

White Chocolate Whipped Cream

Ingredients

1/4 cu White Chocolate Chips
3/4 cu Heavy Cream, plus 2 tablespoons
1 tbl Powdered Sugar

Method

To prepare whipped topping, put white chocolate and 2 tablespoons of heavy cream in a small bowl. Microwave in 10 second intervals, stirring in between, until chocolate has melted and is fully incorporated (you can also melt this mixture in a double boiler). Place mixture in the refrigerator to cool.

Meanwhile, whip cream in a bowl until stiff peaks form. Slowly add white chocolate mixture and powdered sugar. Spoon whipped cream over hot chocolate (or place in a sealable bag, cut a small hole in one corner and pipe whipped cream onto hot chocolate). Garnish with either a sprinkle of cocoa or mini chocolate chip morsels.

Mama Fannie's Sand Tart Cookies

Ingredients

2 cu All Purpose Flour
1 tsp Baking Powder
Pinch of salt
1 cu Pecans Pieces
1 cu Unsalted Butter (2 sticks) plus 2 tbsp, softened
1 cu Powdered Sugar
2 tsp Vanilla Extract
Powdered sugar for coating cookies

Method

Preheat oven to 350 degrees.

In a medium sized bowl mix flour, baking powder, salt, and pecans. Set aside.

In a larger bowl, blend butter with a mixer at medium speed until smooth. Gradually mix in powdered sugar. Add vanilla extract. Add flour mixture in small amounts until combined. If dough is too soft to roll in your hands, refrigerate for an hour before using. Spoon one half tablespoon of dough onto a work surface. Roll dough into a small ball and place it on a baking sheet. Repeat with remaining dough.

Bake for about 12 minutes until cookies just start to brown. Remove from oven and sprinkle with powdered sugar.

These cookies are very delicate right out of the oven and can break if you handle them too soon. Let them rest on the cookie sheet for about 5 to 10 minutes before carefully transferring them to a wire rack. Once cookies are completely cooled, drop them in more powdered sugar to fully coat. Shake off excess and serve. The cookies can be stored in an airtight container. Another option to just coating the cookies in powdered sugar is to add a bit of cocoa to the mix (about 1/4 cocoa to 3/4 powdered sugar).

If you have any comments or questions, please send me an email at wayne@waynesweekend.com or follow me on Facebook or Twitter.