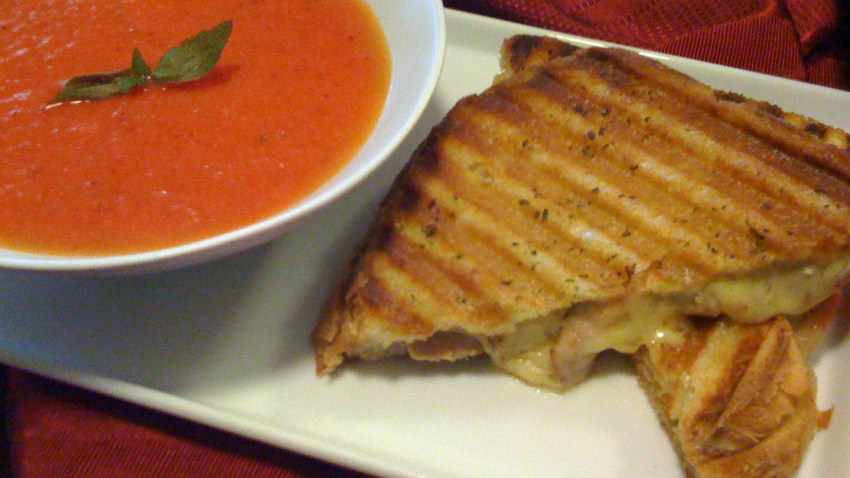 Almost all of us grew up loving grilled cheese sandwiches and tomato soup. Since there's already a hint of fall in the the air, I thought I'd make my version of this comfort food favorite and give it a few adult flavors.

Hearty Tomato Soup
Makes about 2 1/2 quarts

Ingredients

4 lb Tomatoes, halved
1 1/2 lb Sweet Onions (about 2 medium), peeled and quartered
1 whole Garlic Bulb
Olive Oil
1 tsp Salt
1 tsp Pepper
Granulated Sugar
3 stalks Celery
2 cu Fresh Basil, loosly packed then chopped
2 tbl fresh Oregano, chopped
4 cu Chicken Stock
Fresh Basil Leaves, for garnish

Preheat oven to 400 degrees.

Arrange tomatoes and onions on a baking sheet. Sprinkle with olive oil and season with salt and pepper. Sprinkle about 1 1/2 tablespoons of sugar on top as well. Cut off the top of the garlic bulb revealing the hearts of the cloves. Place garlic in a small piece of aluminum and sprinkle with a bit of olive oil. Wrap aluminum around garlic and add to the baking sheet. Place baking sheet in the oven and roast for 45 minutes. Remove from oven and set garlic pouch aside to cool.

Meanwhile, sauté celery in 1 tablespoon of olive oil in a large stockpot over medium heat. When celery is tender, after about 10 minutes, add the basil and oregano and stir for 1 minute. Add tomatoes and onions. Remove garlic from aluminum pouch and allow to cool enough so you can handle it. Then, squeeze out softened clove hearts onto a cutting surface and mash or chop. Add garlic to tomato mixture along with chicken stock. Bring mixture to a boil and then reduce heat to a simmer. Cover and simmer for 45 minutes.

Remove mixture from heat and carefully puree in small batches*. Be very careful to only work in small batches so that the mixture doesn't spray out of the blender and cause injury. Return soup to the pot and keep warm until ready to serve. Garnish each serving with julienned fresh basil.

*You can also use an immersion blender or a food mill to puree this mixture.

Grilled Cheese Sandwiches
makes four sandwiches

Ingredients

4 oz Unsalted Butter, softened
2 tsp Fresh Rosemary, minced
4 oz Gruyere Cheese, grated
4 oz Smoked Edam Cheese, grated
1 oz Parmiggiano Reggiano Cheese, grated
Dijon Mustard
8 slices Bread (sourdough, rustic Italian, whatever is your favorite)
Panini Press (optional)

Optional Ingredients

Cooked Bacon
Smoked Pork Tenderloin
Smoked Salmon
Roasted Eggplant
Fresh Sage Leaves

Method

Mash softened butter together with minced rosemary and place in a small container. Refrigerate until ready to use (you may not use all of the butter in this recipe and it's great with baked potatoes).

Combine the three cheeses in a bowl and set aside. Preheat your Panini press or heat a large skillet over high heat. For each sandwich, spread a thin layer off butter on one side of two pieces of bread. Turn the slices over spread a thin layer of Dijon mustard on each slice. Distribute 1/4 of the cheese mixture on the two slices. At this point, you can add optional ingredients like prosciutto, smoked pork tenderloin, etc to one of the slices. Place one bread slice over the other. Lightly spray the Panini press or skillet with a cooking spray. Cook sandwich according to directions with your Panini press or cook each side in a skillet until cheese has melted and bread is golden brown.

Slice sandwich in half or quarters and serve with tomato soup.

Another variation suggested by facebook friend Mark Seconsky is to make the grilled cheese sandwiches with about half as much cheese and then cut the sandwich into small squares and use them as croutons in the soup. Thanks, Mark! I think that's a tasty alternative!

If you have any questions or comments, please send me an email at wayne@waynesweekend.com or follow me on facebook.