I go out for a living.
People often snicker when I tell them that, but I can honestly say with a straight face that hitting the town multiple times a week to snag multimedia content for the Scene section of this Web site can be grueling at times.
But I won't lie, most of the time it's a ton of fun. And I like to think I've become somewhat of a connoisseur on what makes a good party, because if your affair isn't on point, in a city like Chicago, there's always another option poppin' at the very same time.
Essentially, a good party should have some sort of exclusive feel to it. The come one, come all mentality is a recipe for a hot mess. Obviously there should be lots of liquor (and enough bartenders to serve it in an efficient manner), a DJ that actually inspires people to dance instead of standing around looking at each other, top-notch food (duh), a diverse, fashion-appropriate crowd and if you're lucky, some good weather. Plus, sprinkling a few celebs in the mix doesn't hurt either.
Having said that, here's the Top 5 parties I went to this year:
5 -- Gilt City's Lollapalooza Bash: My strongest memories of Lollapalooza always seem to revolve around the after-parties, rather than anything that actually goes down in Grant Park. The Playboy Rock Star Brunch in 2009. Perez Hilton's Hard Rock party affair in 2010. And this year, Gilt City did it up big on the rooftop of EnV Luxury Apartments, which boasts one of the coolest views of the city skyline. The Saturday afternoon pool party featured a performances by Cults, fresh off the Lollapalooza stage. And yes, people actually got in the pool. (View Gallery)
4 -- Grey Goose's Memorial Day Yacht Parties: The hottest ticket on a blazing hot Memorial Day weekend was a series of parties Grey Goose threw on the Perseverance II, a world class mega yacht docked at Burnham Harbor. Three levels of space, some of the top DJs in the city, plenty of vodka and lots and lots of models. 'Nuff said. (View Gallery)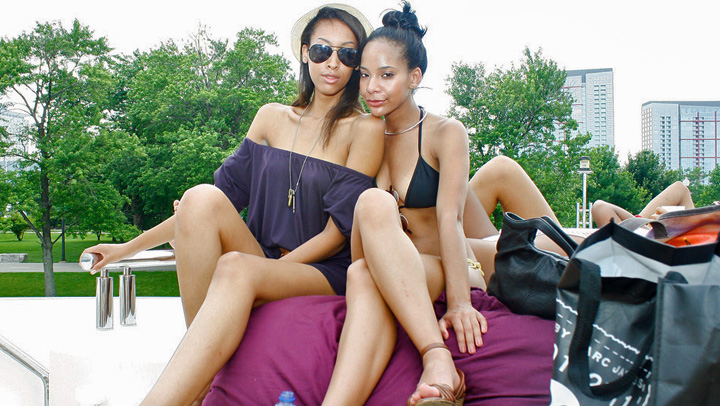 3 -- Cee Lo's Surprise Studio Paris Concert: Studio Paris generated enough buzz on its own merits since opening earlier this year, but the evening of July 6th took it over the top. An exclusive list of invitees were told they absolutely needed to show up to the lounge, and didn't find out until they got there that Cee Lo would be performing. It's one thing to see an A-list singer in concert, quite another to experience it in an intimate atmosphere. (View Gallery)
2 -- Volleywood/House Music Picnic/DMB Caravan: At the beginning of every summer I always circle the second Saturday in July on my calendar. It's the perfect example of the diverse, rich options we have to choose from on any given Chicago weekend summer day. Chicago Sport and Social Club hosted Volleywood on North Avenue Beach with thousands of scantily-clad party-goers throwing down to the beats of Lil Jon. And a few miles south along Lake Michigan, thousands more people were bouncing at the Chosen Few House Music Picnic -- a testament to why Chicago is considered the birthplace of house music. It's difficult enough to hit those two events as it is in one day, but this year, a third choice entered the equation -- the Dave Matthew's Band Caravan. And as we showed this year, if you plan well, travel on a Vespa and stay hydrated, it's possible to knock out all three.
1 -- Peninsula Hotel's 10th Anniversary: The Peninsula Chicago celebrated its 10th anniversary this year, which was good news to whoever received one of the coveted invites to its huge celebration. The parlor game seemed to be trying to guess how many hundreds of thousands of dollars the hotel spent on the lavish soiree. More than 1,000 guests, a virtual who's who of Chicago, breezed through the various Eastern-themed rooms, each with its own entertainment and menus and a dance party that lasted well into the wee hours of the morning. Year 15 can't come soon enough. View Gallery
Honorable Mention:Public Hotel Grand Opening, Macy's Glamorama, Chicago mag's Summer Lovin' Singles Party.
Do Better: If you promote a Cindy Crawford appearance, you might want to tell her first. And we were glad to see the Green Tie Ball return in 2011 -- but the same couldn't be said for the Port-O-Potties at the party.