Although there will be loads of crowd surfing at Lollapalooza, that isn't the biggest event of the summer. Hundreds of fans are expected to line up and watch athletes and weekend warriors compete in the Lifetime Fitness Triathlon racing series the August 26-28. Triathlons feature biking, running and swimming competition all rolled into one physical fitness challenge.
One way to cut time from the race is to improve your swim. And there is still time to get those times faster by changing up your strokes and cross training out of the pool.
Try a total immersion program to help increase stroke length and mechanics for faster swim times. By increasing the strength and range of motion of the swim movements, a longer faster stroke will evolve.
Here are a few great training resistance exercises to perform deck side or in the gym. Perform 2 to 3 sets of 15 repetitions of each exercise.
Andrea recommends:
Lat Pull down with Resistance Tubing - Standing with tubing held in hands overhead and slightly in front of the body, pull one arm down towards the rib cage. The stable arm gets an isometric workout while the moving arm gets eccentric training which strengthens the lats.
Chest Fly with Resistance Tubing - Place tube around a stationary object and extending arms to the side, alternate bringing one hand to center. Keep body in place with good posture and abs drawn in. This exercise helps build rotational core stabilization which can increase cross pattern speed.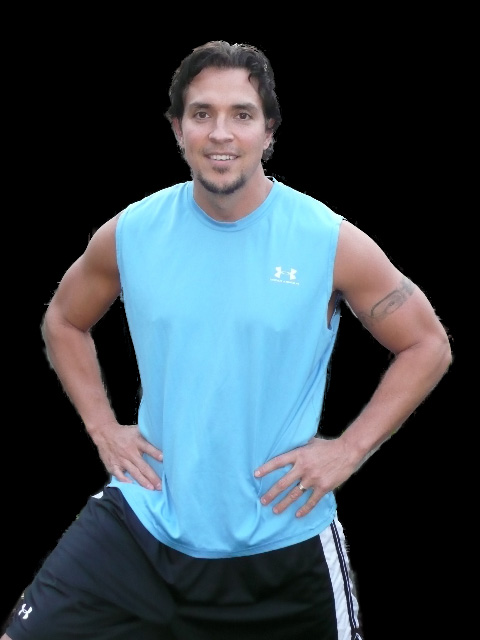 Sergio recommends:
Warm up exercise for better swim techniques.
Most swimmers simply do shoulder rotations and circles, and toe touch stretches to warm up before a swim. That doesn't do much for the stretch rotation of the core and pelvis, which is what creates the torque for your stroke.
Add extension and rotation to your swim warm-up exercises to help with better form.
Start with a staggered stance, one foot approximately 8 to 10inches forward, and slightly narrower than normal hip-width. Raise the arm corresponding to the front leg and reach up and back causing the core to rotate. Reach back 10 to 15 times, and repeat with the other arm. Finally, switch your feet and do both arms as well. This will prepare your body for better swimming technique and redefine the way you swim.

Swim faster with less effort.
Increasing stroke length is key to helping you swim faster and preserve energy. To improve your stroke length, you need to improve your flexibility from the core and rib cage, all the way to the shoulders. Try this warm-up and stretch exercise before jumping in for your next swim.
Start with a staggered stance, right foot approximately 8 to 10 inches forward, and slightly narrower than normal hip-width. Take your right arm and hold it out in front of your body at should height. Rotate the arm to the right as you reach your left hand overhead at to the right and lean right. This should force your rib cage to rotate right and l open up the left side of the rib cage. The motion should also stretch the left shoulder and hip. With your right foot still in front, take the arms in the opposite direction; left arm rotating to the left, while the right arm reaches overhead and to the left. After 10 to 20 reps of each, switch feet by putting your left foot forward and repeat the whole circuit. Redefine the way you swim by preparing differently.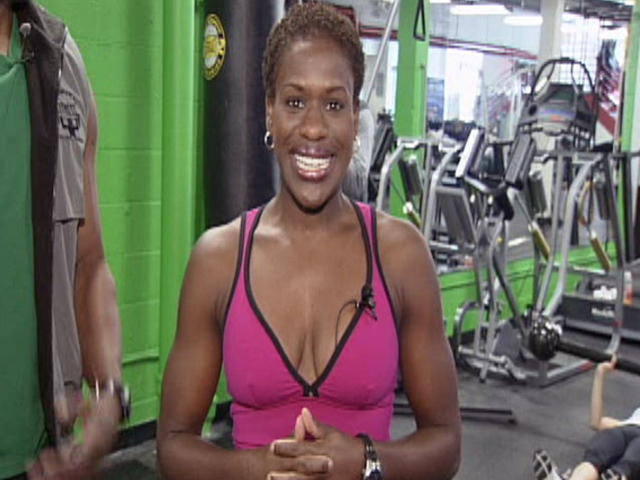 Saran recommends these two exercises:
Overhead Dumbell Squat - Start with weight extended overhead and feet shoulder distance apart. Slowly bend the knees and press hips to the back. By keeping the weight stable overhead, you can increase long body stabilization which can lengthen your stroke mechanics.
Bridge - A powerful kick comes from strong hamstrings and glutes. This next exercise is a little tricky but once you get it down you'll really feel the difference in your core. Start on the deck with two chairs facing each other, then spread them apart about the distance from your shoulders to your feet. Squat down and place your back to one end of the chair, then recline back resting your head and shoulders on the chair seat. Then carefully bring your legs up one at a time on the other chair. If you were to imagine placing a long piece of wood on two benches that is the final positiion your body should resemble. Make sure you raise your chest, keep the back straight and firm, your stomach muscles are engaged and your butt is tight and not drooping down. Hold this position for 30 seconds to a minute, then rest for 30 seconds and then repeat. Do about 5 to 10 repetitions.