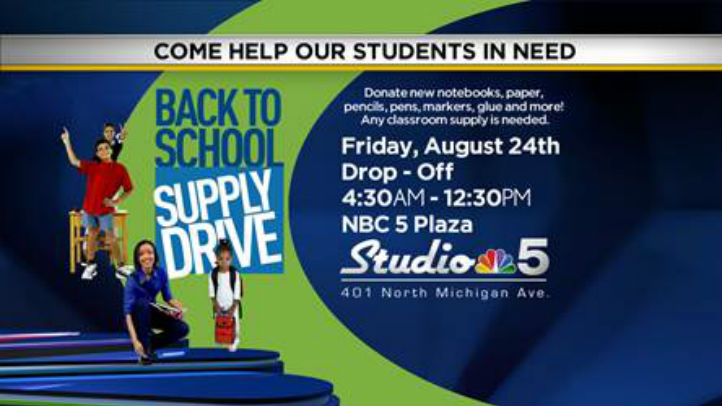 It's that time of year when kids head back to school. For many parents that means school shopping.
NBC 5 is kicking off the back to school season with its annual Back to School Supply Drive.

New backpacks, notebooks, paper and pencils are just a few items on the back to school wish list.
With your help NBC 5 can help provide for students in need. On Friday, August 24 donors can drop off school supplies from 4:30 a.m. to 12:30 p.m. at the NBC 5 Plaza located at 401 North Michigan Avenue or at the Intercontinental Hotel at 505 N. Michigan Ave. or Daymark Realty at 525 W Van Buren St.
All supplies will be donated to students in need.
Supplies needed:

• Folders, 2 pocket, Asst Colors
• Spiral Notebooks, 70 Ct., Wide Rule
• Activity Books, School Zone, Asst Titles
• Construction Paper, 9 X 12, 50 sheets, Asst Colors
• Books, Hard Cover, "Pop-Up"
• Facial Tissue, 2 Ply, 100 Count
• Pencil Case, Heavy-Duty, with zipper
• Markers, 8 count, Washable, Wide
• Paint Sets, Watercolor, 8 Colors w/Brush
• Crayons, Tuck Box, 24/Bx
• Pencils, #2, All Wood, dozen
• Glue, School, Washable, 4 oz, White
• Glue Sticks, Dries Clear, .28 oz
• Erasers, Pink, Large
• Scissors, 5 1/4", Blunt Tip
• Ruler, Plastic, 12", Inches & Metric, Asst.
• Sharpener, Pencil, Double Barrel, Canister
• Highlighter, Chisel Tip, Yellow
• Pencil Cap Erasers, 12/Pack
• Pen, Medium Point, Red
• Notebooks
• Tissue
• Loose Leaf Paper
• Pencils
• Backpacks
• Pens
• Erasers
• Rulers
• Scissors
• 3-Ring Binders
• Pencil Cases
• Markers
• Crayons
• Construction Paper
• Hand Sanitizer
• Glue Sticks
• Highlighters
• Pencil Sharpeners
• KFK Kit Box with Plastic Handle