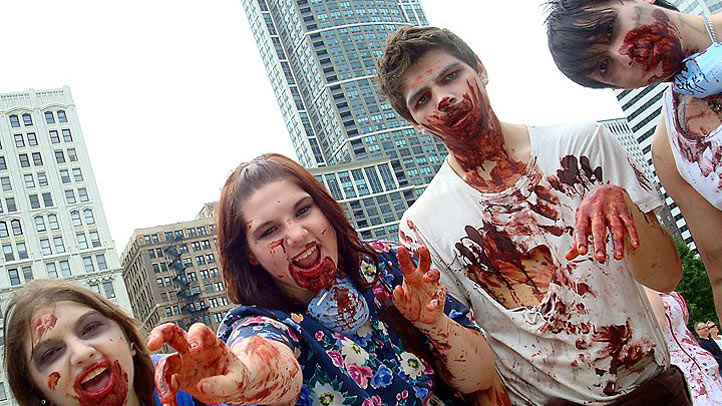 Two flash mobs, one of the flesh-eating kind, the other flesh flashing, surprised a whole lot of people in the Loop and elsewhere on Saturday.
The annual Zombie March kicked things off, with hundreds of bloodied, tattered fans of the undead skulking up the Magnificent Mile. Startled tourists gawked as the undead horde made its way from Millennium Park, up Michigan Avenue, and veered over to State Street, then south right through the heart of the Loop. Some posed for photographs, while others pretended to eat each other. Several dozen of them, teeth gnashing and fingers clawing, surrounded a double-decker tour bus in front of the Tribune Tower, to the delight of some onboard.
This is an annual event organized by the group Dark Chicago. It's in its fourth year, and by all accounts, the zombie horde continues to grow. Several families with kids dressed up like little ghouls even took part.
The second event, which was certainly adults-only, was the annual World Naked Bike Ride. It started around sundown near Harpo Studios in the West Loop. Hundreds of cyclists in their skivvies (or less) pedaled their way through several neighborhoods, like Old Town, Lincoln Park, Lakeview and Wicker Park. The ride lasted until about 11:30 p.m., so if you were out and about in any of those neighborhoods, you likely saw them.
True to its name, the World Naked Bike Ride is held on varying dates around the globe, from cities across the U.S., Canada and Mexico, to Argentina, Brazil, France, Germany, Greece, South Africa, Taiwan, and Australia, to name a few.
According to its Web site, the World Naked Bike Ride is a way to raise awareness about the dangers cyclists face from automobile traffic, as well as "the negative consequences we all face due to dependence on oil, and other forms of non-renewable energy."
In years past, Chicago police have tolerated the naked cyclists, as long as they don't stop traffic for too long. This year, there were no reports of any arrests.