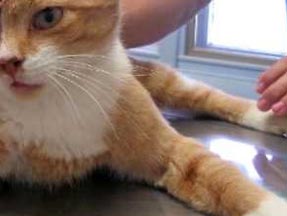 Curiosity kills cats. Arrows through the head just scare them.
Just ask Brownie, a 4-year-old orange-and-white Indiana tabby who's recovering after being shot through the head with a 13-inch-long quilled projectile.
Nobody knows who shot the kitty -- luckily, x-rays show the arrow skimmed off her skull. The vet who de-shafted the feline said the projectile entered above its right eye and ripped through its muscles.

"It's horribly tragic and a miracle the cat is even alive and has such a great attitude still through all of that," said Sarah Hayes, CEO of the Monroe County Humane Association, to WISH TV-8.

Brownie, who has two large scars on opposite sides of her noggin, is expected to make a full recovery.

Hayes said authorities are looking for the culprits.

"You cannot, in this society, abuse animals like this and get away," she said. There's a $500 reward for info leading to an arrest.

Whoever injured Brownie can be charged with animal cruelty, which is a class B misdemeanor, authorities said.
Brownie's not alone in her predicament, though. Several cases involving animals shot by arrows have made the news recently.
Just yesterday in Alaska, authorities rescued a swan whose wing was pinned to its breast by an arrow that penetrated close to its spine.
In March, Authorities charged an Augusta, GA teen with shooting three farm animals with arrows. Just a year prior, an unknown bowman shot and killed a seven-year-old mastiff dog in Seattle.