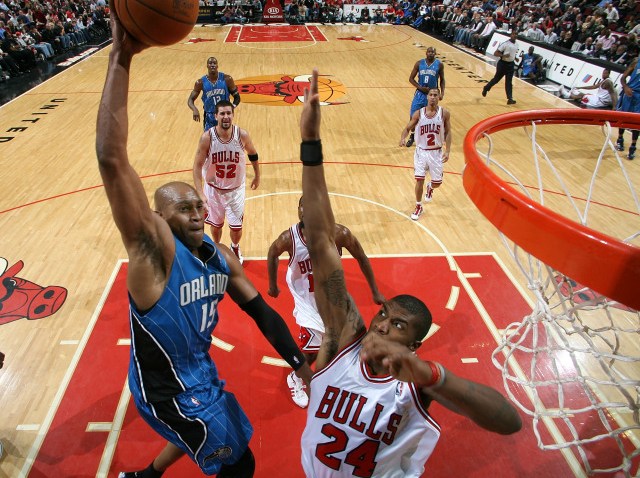 Tyrus Thomas's latest issue with the Bulls is one of two things.
Either Thomas is sick -- and most recent indications seem to point this way -- or Thomas is pouting about missed playing time and missing practices and just generally being a grumpy citizen, which would not be unlike him.

Maybe it's a bit of both. Whatever the situation is, this reaction from the Chicago Sun-Times's Mark Potash is likely to be oft-repeated in the early part of the season, so let's just nip it in the bud now.

It's hard to give up on a player who is still just 23. But the only way Tyrus Thomas gives the Bulls what they expected is if they become one of the NBA's elite teams -- and one of the reasons they're a long way from that is because players like Tyrus Thomas aren't getting any better and don't play solid NBA defense.
On the Celtics, he might be a star -- because they have frontcourt players who can make up for his liabilities on both ends of the floor.
But the Bulls need too much from Thomas. They need him to be the complete player he's never going to be.

Potash believes the Tyrus Thomas project should officially be declared dead, that Thomas should be traded, that Tyrus Thomas will never be a star in the NBA. That last part might be true. But that's an exceedingly difficult point to argue when the player in question is 23, when, had he stayed in college, he would be a mere first- or second-year player this season. Would the Bulls have the same impatience then? Likely not, even if, in that scenario ,a college coach were responsible for Thomas's apparent deficiencies.

And make no mistake: Thomas does have plenty of deficiencies. But it's been the Bulls organization's job to develop him in his first three years; whatever problems Thomas has are at least as much the Bulls' fault as they are Thomas's.

Still, the blame doesn't matter. This is the last year of Thomas's rookie contract, and as things stand right now, the Bulls won't be re-signing Tyrus to a Lamarcus Aldridge-esque long-term deal. But dealing Thomas after three games isn't the answer, either. That's no way to gauge a player's year-over-year progress. If the Bulls want to deal Thomas, they have plenty of time to evaluate if Thomas has made any real progress. Dealing him now would be almost as wasteful as letting him walk at the end of the year with nothing to show for it in return. Let's hope John Paxson -- and Bulls fans -- have a little more patience with a 23-year-old than that.

Eamonn Brennan is a Chicago-based writer, editor and blogger. He is the editor of Yahoo! Sports's college basketball blog The Dagger and a contributor to Inside The Hall. Follow him at his personal site, eamonnbrennan.com, or on Twitter.
Copyright FREEL - NBC Local Media