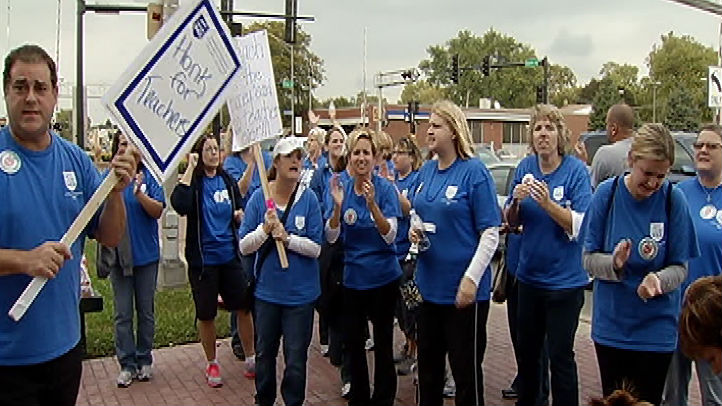 Teachers in north suburban Highland Park could walk out of class as early as Tuesday if bargaining talks fall through over the union's contract.

North Shore District 112 teachers met with the school board again Monday evening, ahead of the strike date they set Oct. 5.

"We went in thinking it would be a simple negotiation," said teachers union president Pamela Kramer.

She told NBC Chicago there are four big sticking points: salary, healthcare, retirement benefits and teacher training.

"I want the teachers to get what they deserve, and if they need to strike they should strike," said parent Susie O'Neill.

But as has been vocalized by so many school districts already this year, it's not about a lack of support for teachers. It's about a lack of money.

"The previous teacher contract has left us in a situation where our expenses grew much faster than our revenues," said school board president Bruce Hyman.

The potential strike follows teacher strikes in Chicago and Evergreen Park, both of which ended with tentative agreements.

"After 11 hours of negotiations, we have reached a tentative agreement," the Evergreen Park Federation of Teachers posted on its Facebook page last week. "We are thankful that we will be back in school on Monday with our students. We have missed them."

Teachers in west suburban Carpentersville voted overnight to support a strike should negotiations break down.