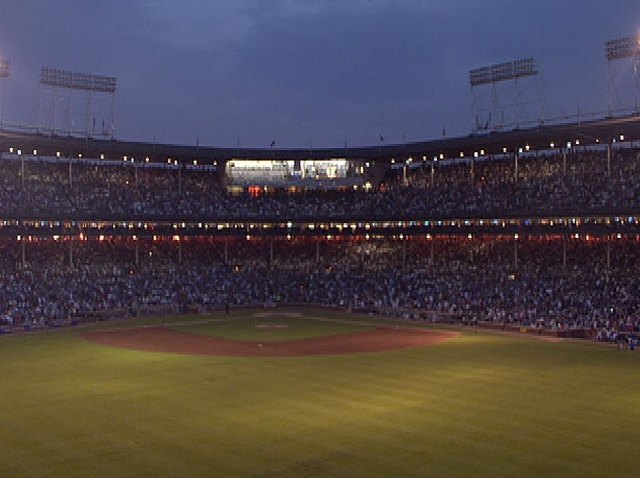 A tree limb falling on a power line is blamed for a power outage at Wrigley Field that delayed the game between the Los Angeles Dodgers and the Chicago Cubs for 18 minutes Wednesday night.

A bank of lights behind home plate went out as Cubs starter Tom Gorzelanny released a 3-1 pitch to Blake DeWitt at the top of the fourth inning. Home plate umpire Wally Bell called the pitch a ball and granted DeWitt first base on the walk. As Dewitt was jogging down the first-base line, the rest of the stadium lights went out.

The Dodgers led 5-2 at the time.

As cameras flashed at the dark field, the public address announcer told the fans that it will take 15 minutes for the lights to come back on.

The game was halted at 8:25 p.m. CDT and resumed at 8:43.

ComEd said a tree limb fell on a power line in the 3800 block of North Racine Avenue knocked out the power. Between 500 and 3,000 customers on the North Side of the city were without power at the height of the outage, but everything was restored by 9:40 p.m.

It was the first delay because of power failure at Wrigley since 2003. The Cubs had two games delayed due to power failures that year.

On May 6, 2003 a power outage in the Lakeview area hit Wrigley in the ninth inning of the Cubs' 9-6 loss to the Brewers. The game was delayed for about 15 minutes. On June 24, the Cubs-Brewers game was stopped for 16 minutes by an outage in the first inning.

The Cubs were the last team major-league team to install lights. The first official night game at Wrigley Field was played Aug, 9, 1988, against the New York Mets after the first scheduled night game against the Philadelphia Phillies was rained out.
Copyright AP - Associated Press