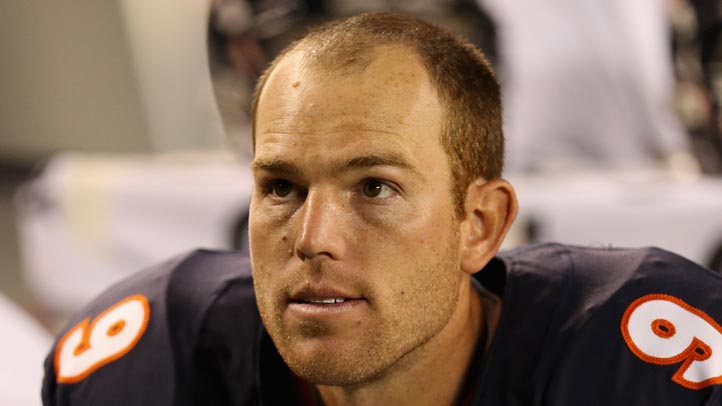 Late Friday, the Bears signed kicker Austin Signor to a three-year contract.

Considering Robbie Gould was injured last season and didn't practice at mini-camp, it's not surprising to see the Bears make this move.
It turns out Gould's injury and subsequent surgery is more serious than was previously thought. ESPN Chicago reported that Gould is recovering from surgery to repair a ruptured tendon in his left leg. Gould, who has been the Bears' kicker since 2005, is taking the signing well.
"I'm excited about it, I really am," Gould said to ESPN Chicago. "Competition is healthy, at every position, and it only makes all the players better. Hopefully I can learn a little bit from Austin, and he can learn a little bit from me. This is exactly what the Bears are supposed to do. All good organizations create competition. It's healthy. I'm looking forward to it. Competition brings out the best in everybody."
He echoed those thoughts on Twitter.
Thanks for all the support. Competition is part of football and what makes players and teams great. I'm excited to work with Austin.beardown — Robbie Gould (@RobbieGould09) April 20, 2013
So who the heck is Austin Signor? His only time in the NFL has been during training camps. His last experience as a full-time kicker was when he played for Eastern Illinois University in 2009. He was 14-for-22 in field goals then, and has kept his leg limber as a kicking coach for a private coaching company. According to his LinkedIn profile, he has also worked as an IT consultant. It never hurts to have a computer guy around.
With that record, it doesn't seem like Signor will be pushing for Gould's starting spot, but he will make sure the Bears have a kicker to practice with for their next mini-camp.
If Gould comes back healthy and returns to form, it's likely that Signor's tenure with the Bears won't be too long. But there is security in having Signor around because there's always a chance we won't see the same Gould.
Copyright FREEL - NBC Local Media