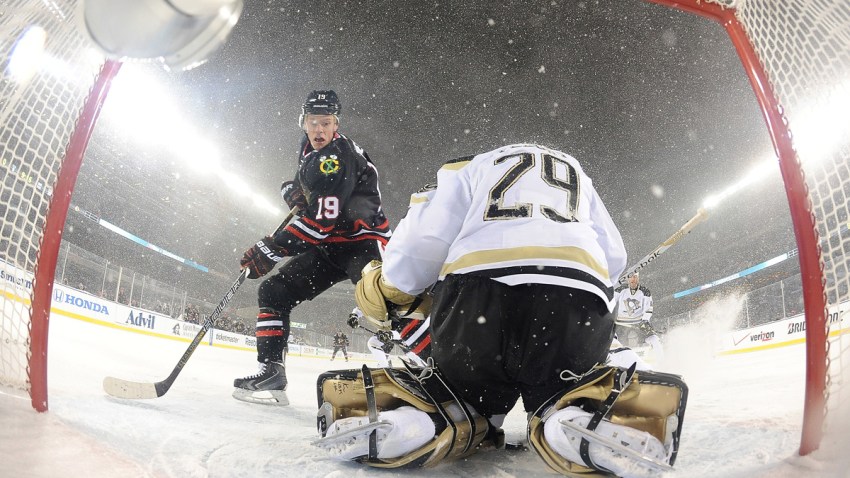 The Chicago Blackhawks just hosted a Stadium Series game at Soldier Field last season, and they are participating in Thursday's Winter Classic, but one fun thing to do despite the overflow of Hawks' outdoor tilts is to guess as to where the next Hawks outdoor game could take place.
Without further adieu, here are our five guesses as to where the Blackhawks will next play outdoors, and which opponents they would take on in those venues:
Notre Dame Stadium: Blues vs. Blackhawks
This possibility has been floated by everyone from fans to Chairman Rocky Wirtz, but it would certainly be an intriguing matchup in a legendary stadium. With Touchdown Jesus looking down on the rink, the scenery at such a game would be excellent, the attendance staggeringly large, and the atmosphere unforgettable.
U.S. Cellular Field: Red Wings vs. Blackhawks
Yes, this matchup has taken place outdoors before in the Winter Classic at Wrigley Field in 2009, but a rematch in the great outdoors would still be something cool to see. The two teams don't play each other much anymore thanks to realignment in the NHL, but a matchup in the stadium that has hosted plenty of heated games between the White Sox and Tigers could be a good draw.
Busch Stadium: Blackhawks vs. Blues
Another team that has been itching to host an outdoor game has been the St. Louis Blues, and Busch Stadium would be the only viable option in Missouri for them to host. A trip to Columbia at the University of Missouri would be interesting, and a game in Kansas City at Arrowhead Stadium would promise both delicious barbeque and entertaining hockey in a city that traditionally doesn't get it, but Busch Stadium would be the better option all things considered.
TCF Bank Stadium: Blackhawks vs. Wild
While most hockey fans would prefer to see the Wild take on the Dallas Stars in a battle of Minnesota's past and present, the NHL would likely prefer a team that could help boost TV ratings. There is a bit of a rivalry developing between the two sides as well, with two straight playoff series being contested between the two, so at least there would be a basis for having them compete with one another.
Chase Field: Blackhawks vs. Coyotes
There are a lot of teams that are eager to host an outdoor game, and the Arizona Coyotes would certainly love to show that hockey in the desert is viable. With a retractable roof and plenty of air-conditioning units, Chase Field could potentially host a hockey rink, and the sunny locale of Arizona (combined with the many transplant fans that live in the Valley of the Sun) would only add to the draw for fans.