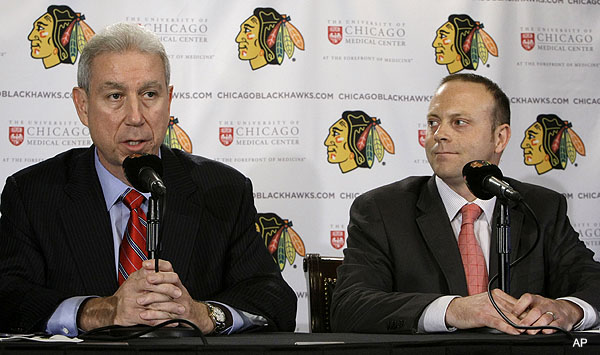 Stan Bowman, the vice president and general manager of the Chicago Blackhawks has a lot to do this summer. What's the outline for it?
Anyway, let me get this out of the way. I've been hard on Stan at times, perhaps unfairly. His hands were tied last summer, and perhaps no one can judge what he did properly until all the picks he acquired either turn into NHL-ers or the guy selling me my beer.
The results we do have aren't encouraging, but perhaps it's time to partly excuse it as his first offseason in the head chair, and believe he can learn from his mistakes as we move forward.
It would be too easy to sit here and study who should have been signed instead of Pisani, Scott, Boynton, and whoever else. We won't do that.
But there are mistakes that Stan can correct this summer, if he can admit he made them in the first place. In no particular order, let's start with Nick Leddy. He must start next year in Rockford, skating No. 1 minutes here. Yes, his contract clock has started and it would seemingly be a waste of half a year of his march to the next deal.
But what would be worse is doubling that mistake and trying to shoehorn a scarred, unprepared kid into more NHL minutes he's not ready for that may permanently blunt him.
Second, Stan can't get caught out again this summer by offer sheets and his own free agents. There's really no way that Niklas Hjalmarsson should have been allowed to twist in the wind long enough to get an offer sheet that cost you Andrew Ladd.
He could have been sewed up long before. Speaking of Hammer, every attempt should be made to lose him. He's too expensive for someone who's only going to play centerfield for Brian Campbell and eventually Nick Leddy. And he's regressed too far. And he's never been the physical presence that was promised. You can fill this role easily with a d-man who makes $2 million or less. Plus he can get you a piece in return, possibly.
Moving on, you have a choice between Troy Brouwer and Tomas Kopecky, though choosing neither is certainly an option. But not both (we lean toward Brouwer). Viktor Stalberg has probably earned himself a fourth-line role, but only if he'll take that money. Ditto Ben Smith. Corey Crawford's contract should be easily negotiated when using Jimmy Howard's of Detroit as a measuring stick.
And now this where the test comes, Stan. When you go look for outside help. You need to figure out what Dave Bolland is, #2 or #3 center, and find whichever one you decide he's not. A 4th line center that's an upgrade from Ryan Johnson is in order as well, so an injury to Bolland (or god forbid, Toews) doesn't cripple a team like it did this year's when Bolland went down.
Don't trust Jeremy Morin to take a wing spot next year, find a big wing somewhere else who can score and skate with Daydream Nation. Possibly listen to offers for Marian Hossa if they come.
Don't even think about moving Brian Campbell, you don't have anyone to replace him. But whoever you add has to provide some veteran grit, the type of player who can help you grind out games where your speed and skill are nullified. We'll give you one more chance, we doubt McD and Rocky will give you too many more, either.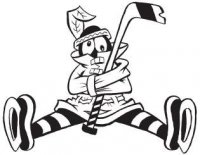 Sam Fels is the proprietor of The Committed Indian, an unofficial program for the Blackhawks. You may have seen him hocking the magazine outside the United Center at Gate 3. The program is also available for purchase online. Fels is a lifelong 'Hawks fan and he also writes for Second City Hockey .