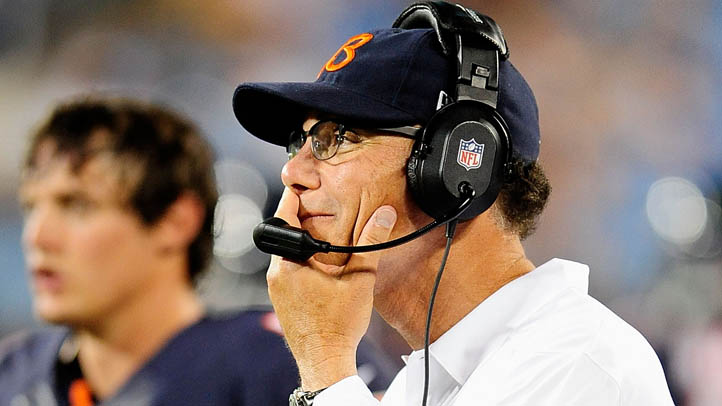 The Bears broke training camp on Tuesday, heading home before they play San Diego at Soldier Field on Thursday. What did we learn from the Bears' three weeks in Bourbonnais?
Cutler was ready to change. Marc Trestman was hired, in part, to help Cutler improve his mechanics. Despite a first-play interception against Jacksonville, the coaching appears to be working. He still is making Cutler-ian mistakes, but observers say he has better footwork. It's a start, right?
Of course, Cutler will need to do more than just display better mechanics during the 2013 campaign if he hopes to win a gargantuan contract.
The offensive line is still an issue. Bears GM Phil Emery saw a glaring need in front of Jay Cutler, so he tried to address the team's shoddy blocking core. He paid big bucks for Jermon Bushrod in Free Agency and drafted Kyle Long to play guard. But even with the additions, the line is still full of holes. Jay Cutler could spend another season on his back.
Rookies are here to make a mark. Jordan Mills is making a play for the starting right tackle job. Jon Bostic is pushing for the starting linebacker job, and Kyle Long is turning heads on the offensive line.
Trestman runs his team very differently. Lovie Smith's practices weren't exactly urgent. He started them later, gave vets time off and kept the tempo slow.
Trestman's practices by comparison are fast-paced and require excellent conditioning from the players. It's a marked changed for the Bears, but one the Bears had to get used to.
Joe Anderson, Isaiah Frey step up. Two second-year players were impressive. Joe Anderson proved he could be a option to make the team's corps of wide receivers. Isaiah Frey took over the nickelback posiion.
J'Marcus Webb could get cut. It's starting to look like Webb could have a hard time making the roster. Mills moved ahead of him this week. Jonathan Scott will return from injury soon. Will the Bears have room for three right tackles? It's not likely.
Copyright FREEL - NBC Local Media