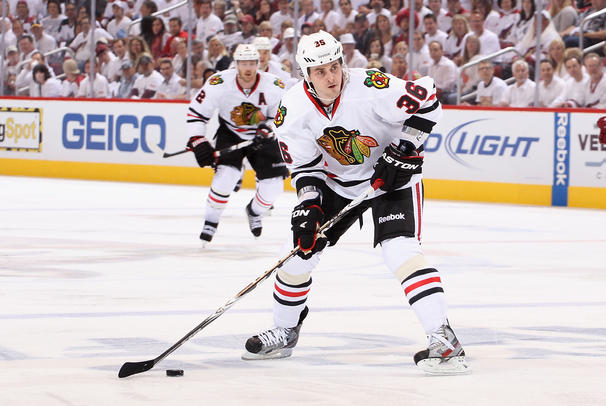 If there was one element that media commentaters focused on more than any other when trying to describe the start the Chicago Blackhawks had to this season, it would be "chemistry." The team's minimum roster turnover this offseason was frequently cited when explaining the Hawks' success, and that has carried over even as the games have flown by this year.
With that knowledge in mind, GM Stan Bowman is heading towards the trade deadline with a decision to make. Should he try to make a big splash in the trade market? Should he try to add a complementary piece to solidify the Hawks going into the playoffs? Or should he say no to both of those things and just stand pat?
Out of those three options, there is only one that is extremely unlikely, and that is the adding a depth piece option. This team is already burdened with more depth pieces than they know what to do with, as guys like Daniel Carcillo, Jamal Mayers, and Brandon Bollig will all be vying for ice time when players like Marian Hossa and Patrick Sharp return to Chicago's lineup.
If Bowman decides not to stand pat, then it would behoove him to address this team's biggest weakness, which is at the second line center's spot. Sure, Patrick Kane has had a ton of success this year on that line with Sharp and center Dave Bolland, but the fact of the matter is that Bolland simply isn't suited to that role.
Not only has Bolland not scored a goal since February 15th, but he hasn't even really been getting any shots on net either, notching only three in the team's last five games. Simply put, he is more suited to playing center on the third line, where his defensive prowess and lack of offensive firepower are more acceptable attributes.
Before the Hawks fully embrace the notion of moving Bolland down in the pecking order, there are some reasons for them to hesitate. For starters, the price tag of a second line center in this market is going to be insane. Just about every team still has at least some semblance of a chance to make the playoffs, and the ones that don't are going to be in high demand as the deadline nears.
When you go down the list of potential trade targets that would fit that role of second line center, there are two names that jump out. The first of those is Washington Capitals center Mike Riberio. He has been very effective this season, dishing out 22 assists and scoring 10 goals. He is also a lethal power play contributor, racking up 17 points (5 G, 12 A) on the man-advantage.
The other is Dallas Stars center Derek Roy. The 29 year old will also be a free agent at season's end, and pundits from Bob Mackenize on down the line have said that he is a prime target to be dealt by a Stars team looking to start building for the future.
A lot of "ifs" would have to resolve themselves if Bowman is going to pull the trigger on a deal. Yes, this team is blessed with a deep farm system, but they are going to have to deplete that a bit in the offseason because of salary cap concerns going into next year, so they have to be careful not to go crazy. In addition, they have to make sure not to acquire anyone with a large cap hit moving forward for that same reason.
The odds are not good that the Hawks will be able to make a deal happen for one of those two guys, but if Bowman can talk Capitals GM George McPhee or Stars GM Joe Nieuwendyk into trading their guy for a relatively reasonable amount, then he needs to do so.

The team would be better off with Bolland shifted down to the third line, and would be better equipped offensively and defensively to handle any challenge their fellow elite teams could throw at them in the playoffs.