Being a fan of a team in the Stanley Cup Final tends to blind you to things. And I don't mean current events or worldly affairs. A fair share of significant others, friends, and family members get pushed by the wayside during a Cup run. Chances are, your boss does too and I can only hope he's just understanding enough to keep you in employment. You spend your days in a fog, dreading the next bad bounce as your beard -- which has become way out of control -- continues to itch or get in the way of your top lip. But there's nothing to be done about that. Shave it, and you may be the one responsible for the lack of a parade in your town. Or so you and your friends might think.
So pardon me if I didn't spend a lot of time last spring wondering how those outside Chicago felt about the Hawks run to glory. Perhaps people were cursing every shot of Patrick Kane, throwing things at the TV when Antti Niemi made another save, and physically ill when Kaner was throwing his gloves in the air while hopping over the red line. I know they were in St. Louis, who've always hated us (which makes sense. I mean when your city is inferior in every way...). There were a portion in Detroit too I'm sure, who could no longer regard us as "little brother". I'm sure it was the same in Vancouver and Philadelphia.
But I can't fathom that it got to the lengths that the hockey world has gotten to with Vancouver. It's not just here and Calgary that revile this team and organization. The sense most get is that everyone outside of the province of B.C. would rather eat their Brussel sprouts than watch the Canucks lift The Cup. Every blog, of any team, that I read these days is dreaming of a Vancouver loss, and getting the joy of watching their players and fans cry.
Was it this way with the Hawks last year? I know a lot were turned off by our sometimes over-the-top celebrations last summer. But those things tend to happen when you haven't won in 50 years. It was no different than when the Red Sox broke that duck. Was there a week that winter when they weren't on television?
But during last year's Final? I don't remember that being the case. Most showed at least an admiration for the Hawks' depth and style of play. Sure, Patrick Kane rubs people the wrong way. But who else did? Ben Eager played too small a role, and he wasn't half the incurable-rash that Alex Burrows or Maxim Lapierre have been. Adam Burish barely played, and was probably too good of a quote anyway. I'd say most of last year's vitriol was saved for the Flyers, who always inhabit the cold places in hockey fans' hearts.
Or maybe I just had too big of blinders on, and people were really this driven against us. But I doubt it.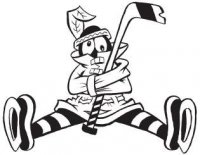 Sam Fels is the proprietor of The Committed Indian, an unofficial program for the Blackhawks. You may have seen him hocking the magazine outside the United Center at Gate 3. The program is also available for purchase online. Fels is a lifelong 'Hawks fan and he also writes for Second City Hockey .