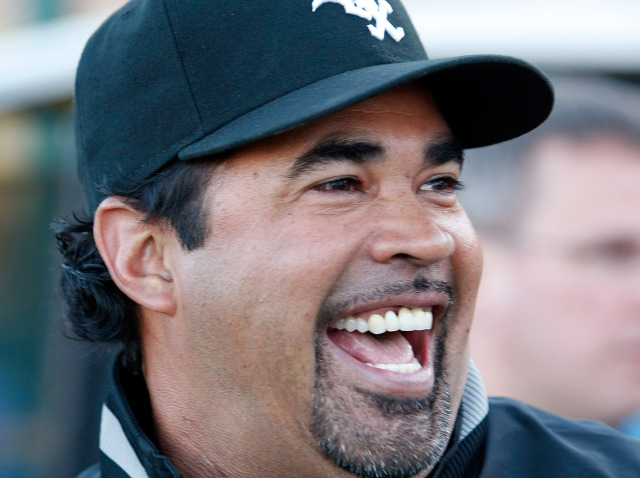 Howard Cosell, Al Michaels, Pat Summerall ... Ozzie Guillen?

OK, maybe the White Sox manager doesn't belong in the pantheon of great sports casters. But if you ever wanted to know what happens when someone puts a microphone in front of Ozzie Guillen's face for three hours, your time is now.

Guillen is working as an analyst for Fox during the 2009 World Series, and, well, yeah. Ozzie talking? About baseball? For hours on end? We're so there.

Which is why we'll be back every morning following the World Series with a daily chronicle of crazy stuff Ozzie said the night before. Curse words? Insane, wrongheaded baseball ramblings? Pot shots at A-Rod? Homophobic slurs? We won't miss a single one. Sounds like fun, right?

So, yes: Come back each morning after the World Series (this means tomorrow morning, of course) and check in. You probably don't want to miss this.

Oh, and just to prove the point (as if it needed proving), here's a brief video collection of Ozzie's best work behind a microphone. Gentlemen, start your bleep-buttons:

First up, we have Ozzie complaining for three minutes about how the White Sox are treated in Chicago. Hint: Ozzie's word for this treatment is "sheet."


Next up, Ozzie is sorry for that whole homophobic slur thing, but he's not apologizing to Jay Mariotti:


What happens when Ozzie calls a local radio host and thinks he's not on the air? Bad things:


And finally, someone has a blow-up doll? A barbie doll? We're still not quite sure what Ozzie's trying to say here:


Eamonn Brennan is a Chicago-based writer, editor and blogger. He is the editor of Yahoo! Sports's college basketball blog The Dagger and a contributor to Inside The Hall. Follow him at his personal site, eamonnbrennan.com, or on Twitter.
Copyright FREEL - NBC Local Media