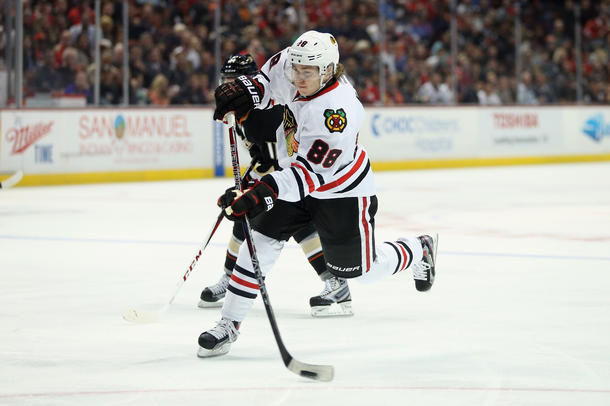 The Chicago Blackhawks may have been without forward Marian Hossa on Wednesday night, but head coach Joel Quenneville had a trick up his sleeve. Instead of relying more heavily on his fourth line, or sticking with his original plan of playing Daniel Carcillo on the top line with Jonathan Toews and Brandon Saad, Quenneville once again was playing winger Patrick Kane on double shifts.

The reason I say "once again" is because he did the same thing during Monday's win against the Colorado Avalanche. When asked about it after that game, Quenneville told the media "I asked him a couple of times (how he was doing), when he looked like he might've been out of breath. A couple of times, he even laughed at me. He likes to go. He had the puck a lot tonight. He was dangerous."
Quenneville apparently thinks Kane can handle the physical stress because he was putting Kane out with astonishing frequency against the Ducks. Not only did he skate with Toews and Saad, but also with his regular linemates Jimmy Hayes and Dave Bolland. By the halfway point of the contest, Kane had already racked up 11 minutes after skating for 22:30 two nights before. He ended up playing 25:21 in the game to lead all skaters, even outskating Duncan Keith and beating Brent Seabrook by nearly three minutes.
The question is whether Quenneville did his winger a disservice by playing him so much in this game. With Hossa and Patrick Sharp out, it was a given the Hawks would need some extra push out of their star players, but why would Quenneville decide to put Kane out all the time instead of moving another one of his fourth line guys up occasionally instead?
Michael Frolik has been showing a lot of jump on the ice as of late, so he would have been an ideal candidate to replace Hossa, with either Jamal Mayers or Carcillo replacing him on the fourth line. Quenneville even could have done some double shifting with Bryan Bickell, who has been finding his offensive game lately, or Viktor Stalberg, whose speed has been giving teams fits throughout this season.
In either case, those options would have been better than Kane. During that second period, Kane looked a step slow on just about every play he was involved in, and missed a couple of gimme chances that he may have buried on a better night. One especially egregious example came late in that frame when he had a puck land at his feet in the crease, courtesy of a ludicrous move and shot by Saad. He ended up shanking the shot wide, and while that isn't always a slam dunk goal, it did give fans reasons to question whether or not Kane was handling his minutes well in the game.
Simply put, if Quenneville is going to insist on continuing to dress Carcillo, then he needs to stick with it. In a compacted season, the Blackhawks cannot afford to play their forwards for that much time on a consistent basis. If Carcillo is a liability on the ice, then tell him to wear a suit to the game and send him to the press box.
On Monday, we praised Quenneville for pushing all the right buttons in the game. On Wednesday, it seemed like he got a little overreliant on the "rely on Kane" option, but with four days off coming up, he'll have plenty of time to recuperate and allow guys like Hossa to give him some ice time relief.