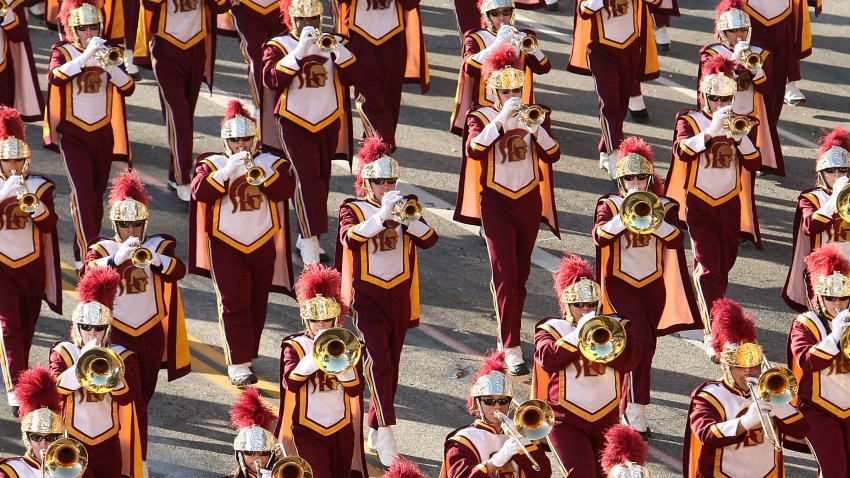 Chicago is Notre Dame country. Sure, there are plenty of college allegiances here -- Chicago manages to attract people from not just across the Midwest but from across the country -- but if there is one unifying college football fan base, it's Notre Dame.

Which is why we can imagine there were more than a few fans upset with USC's marching band. Today, the Trojans followed up with their tradition, which takes place every two years when USC plays at Notre Dame, of serenading the denizens of downtown Chicago with a performance fit for Pasadena. The band shows up at Navy Pier at noon -- as they did today -- and plays very loud, very Trojan-y music. Enemy territory, indeed.

The marching band was a part of a USC pep rally at the pier. The rally included a few hundred supporters, the Trojans cheerleaders, the band, and a few assorted dudes in USC jerseys. Pretty standard stuff. But the whole thing has a little bit of an edge to it. Make no mistake: This is an insurrection.

Fortunately, this thing took place in the middle of the day, when most ND fans were at work and not, you know, drinking copious amounts of alcohol in a large similarly clad group. Like in, say, South Bend tomorrow.

Eamonn Brennan is a Chicago-based writer, editor and blogger. You can also read him at Yahoo! Sports, Mouthpiece Sports Blog, and Inside The Hall, or at his personal site, eamonnbrennan.com. Follow him on Twitter.
Copyright FREEL - NBC Local Media